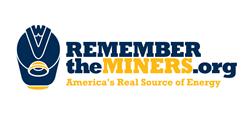 We strengthened our presence in Tucker County as a result of this event and plan to participate in Run For It for years to come.
Davis, WV (PRWEB) October 10, 2014
Remember The Miners joined the nearly 1,200 participants at the annual Run For It 5K, in Davis, West Virginia, sending a team of 18 to run and raise awareness for their cause. Their efforts did not go unnoticed, as they received two awards and earned $1,285 for their efforts. This event, held in conjunction with the Leaf Peepers Festival, brought thousands to Tucker County from September 26th - 28th serving as an excellent launch point for miner awareness.
Remember The Miners received the Gold Star Award and the Bernard McDonough Foundation award for their high level of participation as a non-profit, earning $500 for each. The Remember The Miner's team – one of the few teams from outside Tucker County – set up a large promotional tent at the race, gaining significant visibility for the cause.
"This event proved a huge success for Remember The Miners, in large part because of The Tucker County Foundation's hard work and organization," said Jason Parsons, President and Co-Founder of Remember The Miners. "We strengthened our presence in Tucker County as a result of this event and plan to participate in Run For It for years to come."
Remember The Miners earned $1,285 through awards, donations, and sponsorships. This amount will be used for the Remember The Miners scholarship program, which awards thousands of dollars to students each year. In total, Run For It saw proceeds exceed $175,000 for various causes in the area.
Brightline Interactive, a creative digital services agency in Alexandria, Virginia, matched the cost of tickets, t-shirts and promotion with an in-kind donation to Remember The Miners. Brightline specializes in custom applications and experiences for large-scale events in high-profile locations. They are a long-time supporter of Remember The Miners' efforts to support the families of the West Virginia coal industry.
About Remember The Miners
Remember The Miners is a non-profit organization that aims to raise awareness for the nation's coal miners through scholarships, events, and media. For more information or to donate, visit http://RememberTheMiners.org.
About Brightline Interactive
Brightline reimagines technology for measured consumer brand experiences through place-based interactivity. Brightline creates, builds, and produces fun digital experiences for global brands at major sporting events, entertainment venues and public location-based properties for automotive, CPG, technology, airlines, beverages and other products and services. Headquartered in Alexandria, VA, Brightline is committed to creating innovative, viral and scalable brand activations.
See more at http://brightlineinteractive.com.