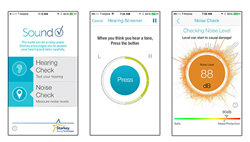 Gainesville, FL (PRWEB) October 10, 2014
With football season now underway, Audibel Hearing Center, along with Starkey Hearing Technologies, is helping sports fans "listen carefully" this season with Starkey's new SoundCheck app.
The SoundCheck app is free to download, and allows fans to measure the noise levels during football games. The app includes a Hearing Check and an all-new Noise Check to help measure surrounding noise levels. When the noise levels get too loud, warnings are presented and hearing protection is encouraged.
Those attending football games this season should take advantage of the free SoundCheck app in order to preserve their hearing and protect against noisy crowds. Fans can still enjoy cheering on their favorite teams in the stands, but should be mindful of the environment around them and take the necessary steps to protect their hearing.
Audibel Hearing Center encourages everyone to download the app today and tell parents, friends and family about it as well.
About Starkey Hearing Technologies:
As one of the world's leading hearing technology companies, Starkey Hearing Technologies has paved the way with innovation in digital hearing systems. Founded in 1967, Starkey is headquartered in Eden Prairie, Minnesota. The company designs, develops and distributes hearing aids and digital hearing systems worldwide. For more information, visit their website at http://www.starkey.com/.
About Audibel Hearing & Audiology Centers:
Audibel Hearing & Audiology Centers provide a variety of hearing care services, including hearing evaluations, video ear inspections, hearing instrument fittings and aural rehabilitation. With five locations in the Gainesville area, Audibel Hearing Center provides patients with a number of convenient options to find out more about their hearing health. For more information or to set up an appointment with Audibel Hearing Center, please call 352-377-4111 or visit http://www.audibelnorthflorida.com/.
About Audibel:
Audibel is a network of hearing healthcare professionals with more than 1,000 locations throughout the United States. Headquartered in Eden Prairie, Minn., the company prides itself on providing outstanding service and the highest-quality technology to patients. For more information about Audibel, visit http://audibel.com/.