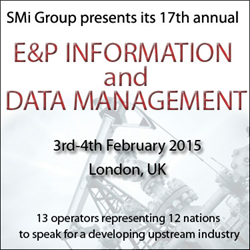 (PRWEB UK) 10 October 2014
SMi Group announces its 17th annual E&P Information & Data Management Conference will be taking place in London in February 2015. This year's event will bring leading industry experts from across the globe to discuss the latest issues and developments in the industry. Event programme- 2015 includes presentations from 13 operators representing 12 nations!
The two day programme and 4 workshops will build on the success of 2014 which saw over 70% of oil and gas end-users in the room. The event will give delegates the opportunity to discuss topics including data governance, standards and practice, issues of data quality, analytics plus more…..
For more information please go to http://www.smi-online.co.uk/2015eandpdata33.asp
Event programme includes 4 interactive pre- and post- conference workshops. All workshops will take place in Marriott Regents Park Hotel, London, UK:

Seismic Data Quality. Hosted by Jill Lewis, CEO, Troika International Ltd
Measuring the Value of Effective Data Management. Hosted by Ed Evans, Managing Director, NDB
Building an Operational Framework for E&P Data Management. Hosted by Ian Jones, Chief Consultant, Venture Information Management
Competency Development in E&P Data and Information Management- The Hows and Whys. Hosted by Simon Cushing, Head of Strategic Consulting, Venture Information Management
Speaker Faculty- 2015 includes:

David Lloyd, Projects Portfolio Manager, GDF SUEZ E&P UK Ltd
Laura Mastella, Business Analyst, Rock and Fluid Data Management, Petrobras
Emmanuel Udeh, Subsurface Data Analyst, Technical Support & Information Management, Shell Nigeria
Suzy Milburn, Data Manager, Genel Energy
Tofik Ouagueni, E&P Data and Information Manager, IT Strategy, BG Group
Mikitaka Hayashi, Information Manager, Project IT Department, JGC Corp
Gema Santos Martin, Head of information Management, Global Upstream, Repsol S A
Hussain Zaid Al-Ajmi, Team Leader Exploration & Production IM, Kuwait Oil Company
Sergey Fokin, Head of Data Management & Geoinformation, Total E&P Russia
Grahame Blakey, GIS Project Manager, GDF SUEZ E&P UK Ltd
Dan Hodgson, Technical Director, DataCo
Wolfgang Storz, Manager Geo DataBasis, RWE Dea
Jill Lewis, Chair, Technical Standards Committee, SEG and MD Troika International, Society of Exploration Geophysicists
Mohamed El Harras, Head of CPD-IM, Petroleum Development Oman
Andy Moore, Independent Consultant and former IS Manager, Knowledge Information and Data, Santos
Thomas Speidel, Trend Specialist, Suncor Energy
Paul Duller, Investigator and Expert Witness, California Public Utilities Commission (CPUC)
Please go to http://www.smi-online.co.uk/2015eandpdata33.asp to download the complete event programme including all speakers.
Sponsored by DataCo. SMi Group offers direct access to key decision makers in this sector through tailored sponsorship & exhibitor packages. If you would like to join the event programme as a sponsor, exhibitor or speaking sponsor, please contact Alia Malick, Director, on tel: +44 (0) 20 7827 6168 or email: amalick(at)smi-online(dot)co(dot)uk
Supported by Oil IT, OilVOice, Petroleum Africa, Interfax Energy, WorldOils, Engineerlive, OilandGasInternational.
For more information, go to: http://www.smi-online.co.uk/2015eandpdata33.asp
Alternatively, contact Andrew Gibbons on +44 (0) 207 827 6156 or e-mail agibbons(at)smi-online(dot)co(dot)uk
Contact for media partners: Julia Rotar, marketing manager, jrotar(at)smi-online(dot)co(dot)uk
17th annual E&P Information & Data Management
03-04 February 2015
Marriott Regents Park Hotel, London UK