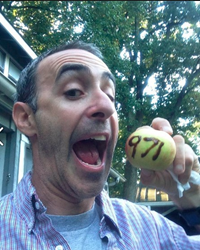 "There's no downside" to eating an apple a day, says Jeremy Kugel, on his way to eating an apple a day for 1,000 days in a row.
Silver Spring, MD (PRWEB) October 10, 2014
We all know the age-old adage, "An apple a day keeps the doctor away." Well, Jeremy Kugel's doctors may have to retire. The Maryland educator and self-proclaimed food lover is taking the old and wise health advice very seriously, having eaten an apple daily for nearly 1,000 days in a row. Kugel's 1,000th day enjoying America's most celebrated fruit arrives Monday, Oct. 27, appropriately in the midst of National Apple Month.
Kugel, 42, and a father of two from Silver Spring, set out on his Apple a Day journey in Feb. 2012, initially committed to eating a daily apple for 30 days.
"I love setting food challenges for myself," said Kugel, whose endeavors have ranged from eating 40 chicken nuggets on his 40th birthday to going all vegetarian for a month for charity.
"The apple marathon was initially just for 30 days as a silly conversation piece with friends, but it turned out to be so much fun I realized this was one food challenge I could and probably should follow for a long time, so I kept going. A few months in, I had a Cal Ripken-like streak I didn't want to break, so I set my sights on 1,000 days."
"I try to eat reasonably well for an on-the-go lifestyle, but it's hard," said Kugel, a CFO/COO of a Bethesda, Md., prep school. "Eating an apple a day is very easy, and some days it may be the only healthy thing I'm able to do. There's no downside to eating apples: It's convenient, inexpensive and there's always a new variety to discover. Anything besides apples would probably cost more, not be easy in a hurry, and I'd just get bored."
But keeping the streak alive hasn't always been as simple as Kugel expected.
"One night my son ate the last apple in the house, so I had to run to the grocery store late in the evening," Kugel said. "I was also once at a bachelor party in the middle of nowhere. I looked around the house – no apples! I had to drive for miles to a convenience store to bite in just before midnight."
"In an age of Fitbits, fad diets and superfood crazes, it's great to meet a person who's taking this old, yet simple and sound health advice to 'eat an apple a day' to heart," said Wendy Brannen, U.S. Apple Association's (USApple) Director of Consumer Health and Public Relations. "After all, the advice is true: a list of studies proves apples keep your belly full and fit, your brain sharp, and cancers, diabetes, asthma and heart disease at bay."
Brannen adds that Kugel also preaches something USApple regularly reminds consumers—that there are enough varieties available at stores and fruit stands to suit all pallets and mix things up each day.
As Kugel closes in on his 1,000-day milestone Oct. 27, he has no plans to stop eating apples.
"I chose apples because I really do like them," he said, "and ironically, I like them even more now than when I started, so you definitely won't see me slowing down very much on eating them."
Looking for inspiration on how you can start your own Apple a Day challenge? Find delicious apple recipes, visit http://www.USAppleBlog.org. To learn more about apple's health benefits, download USApple's health research summary: http://usapple.org/index.php?option=com_content&view=article&id=54&Itemid=44. And, for more apple ideas, follow USApple on Facebook, Twitter and Pinterest, and sign-up for its newsletter here http://www.usappleblog.org/sign-up.html.
# # #