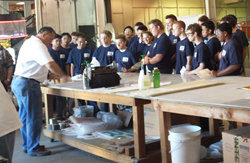 "The experiences of students and companies show that the next generation of workers is interested in the sign and visual communications industry." Lori Anderson, ISA president and CEO
Alexandria VA (PRWEB) October 12, 2014
Teenagers may not think about the sign that shows them where they can take a date to a movie or where they can quench their hunger at a drive-thru. So it can be eye-opening when they see a sign up close and in production. That is the result of Sign Manufacturing Day, held Oct. 3, which drew students from elementary, middle and high schools as well as those enrolled in community and technical colleges. The event is sponsored by the International Sign Association in conjunction with the National Association of Manufacturers.
Highlights of the day included:

In South Bend, Ind., North American Signs offered to open up its facility for student groups. Overwhelmed by the response, the company worked with its local Chamber of Commerce to find other manufacturing facilities to join in offering tours. The Chamber helped promote the fact that entry-level manufacturing jobs in the region have starting salaries of $33,000-$40,000. In all, more than 500 students participated.
In Washington, Mo., nearly 400 students toured Ziglin Signs, Inc., throughout the day. Lewis Sign Builders in Buda, Texas, drew more than 100. In all, more than 1,000 students toured ISA-member companies.
In Dartmouth, N.S., Mattatall Sign employees offered engraved acrylic souvenirs to high school and design college students who provided a digital file of their artwork.
Several participating sign companies were asked about internship, co-op and job-shadowing possibilities for students.
"In our second year, Sign Manufacturing Day was a rousing success," said Lori Anderson, ISA president and CEO. "The experiences of students and companies show that the next generation of workers is interested in the sign and visual communications industry. We just have to continue to make them aware of the good, diverse jobs that our industry contains."
Sign Manufacturing Day occurs the first Friday of each October. Though the next event is nearly a year away, there is no reason sign companies cannot reach out to high school, community college and technical schools to schedule tours outside of Sign Manufacturing Day. ISA has developed resources which can help companies. Contact Alison Kent (alison.kent(at)signs(dot)org) to learn more.
"The response shows that students and teachers are hungry for ways to tie what they learn in the classroom into future careers," Anderson said. "Based on the interest in internships and other job opportunities, it is clear that we can continue to build this bridge to the future workforce."
Participating companies and locations for 2014 were:
Arrow Sign Company, Stockton, CA
Cummings Resources, Dothan, AL
DaNite Sign Company, Columbus, OH
Federal Heath Sign Company, LLC, Oceanside, CA; Jacksonville, TX; Euless, TX; Delaware, OH
Lewis Sign Builders, Buda, TX
Mattatall Signs, Ltd., Dartmouth, NS
North American Signs, South Bend, IN
Ortwein Sign Custom Crafted Branding, Chattanooga, TN
Persona, Watertown, SD; Madison, SD
Poyant Signs, Inc., New Bedford, MA
Ramsay Signs, Portland, OR
Sign-Age of Tampa Bay, Clearwater, FL
Signarama Brighton, Brighton, CO
Southwest Signs, San Antonio, TX
YESCO, Salt Lake City, UT
Ziglin Signs, Inc., Washington, MO
About ISA
The International Sign Association (ISA) represents manufacturers, suppliers, and users of on-premise signs and sign products from the United States and 60 countries around the world. ISA and its Affiliated Associations work to support, promote, and improve the worldwide sign and visual communications industry, which employs more than 200,000 American workers and has an economic impact of $37.5 billion.