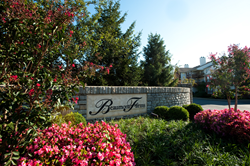 We want everyone to get dressed up in costume and come have a great time from 6 to 8 p.m. in the clubhouse as we wind up Resident Appreciation Week.
Lexington, KY (PRWEB) October 12, 2014
As temperatures drop, many Kentuckians begin easing into their winter hibernation, a time during which they rarely see neighbors and friends, dreading the slow passage of winter days. Not so with the residents of Lexington's Beaumont Farms Apartments.
General Manager Michael Orsinelli announced the details of the latest event planned by the Andover Management Group to foster interaction among the Beaumont Farms residents and with the management team and to let the tenants know how much they are appreciated.
All during the month of October, residents are encouraged to decorate their front doors with fall or Halloween décor. They can sign up in the office to enter a contest for the best design, and the winner will receive $200 off one month's rent. The creative champ will be announced on Friday, October 31.
The last week of the month will be Resident Appreciation Week, Orsinelli said, beginning with a complimentary drive-through breakfast on Monday, October 27. Beaumont Farms staff members will be in the boulevard to hand out breakfast treats and coffee to residents as they leave for work and school.
A cookie decorating event will entertain children from 1:00 to 2:00 pm on Tuesday, October 28, as they gather in the clubhouse to embellish Halloween sugar cookies.
"We're aware that many of our residents leave home early on workdays and return after our office is closed," Orsinelli said. "Because we want to make ourselves known to them, face to face, we're going to keep the office open on October 29 until 7:00. We'll be offering appetizers and the chance for conversation and answering any questions our residents might have. It's important to us that they feel comfortable here and know we're open to hearing any concerns they bring," he said.
Thursday, October 30, will be a big day at Beaumont Farms Apartments when their Oktoberfest celebration will provide fun, food and festivity for residents of all ages. Children will enjoy hayrides and an inflatable slide. Adults will have a chance to win UK Football and Fall Treats baskets, and folks of all ages will have fun decorating pumpkins, eating popcorn and pizza and dancing to top hits spun by a local deejay. "We're counting on seeing lots of superheroes, goblins and pop culture icons at our Oktoberfest," Orsinelli said. "We want everyone to get dressed up in costume and come have a great time from 6 to 8 p.m. in the clubhouse as we wind up Resident Appreciation Week."
About Beaumont Farms Apartments
Conveniently located in south Lexington's Beaumont Centre, the Beaumont Farms Apartments offer one-, two-, and three-bedroom units complete with washer/dryer connections and fully equipped gourmet kitchens. Luxury amenities, such as an on-site carwash, walking trails, and a 24-hour fitness center, provide convenience and opportunities for socialization. For more information, call (859) 224-7007.