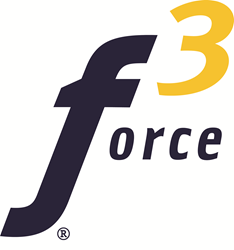 Boesnch will be part of a panel discussion entitled "Putting the Customer at the Center of Your Business Applications Strategy."
Crofton, Md. (PRWEB) October 13, 2014
Force 3, delivering the best in federal security, collaboration, next-generation networking and support solutions, today announced that Erin Boensch, our Director of Information Technology, will appear as a speaker at Dreamforce, held this week, October 13 through 16 at the Moscone Convention Center in San Francisco.
Salesforce.com's annual user and developer conference, Dreamforce, is the world's largest software and cloud computing event. More than 135,000 sales, marketing, business and technology professionals from around the world are expected to attend the 12th annual event opening today. The four-day conference will feature 1,400 breakout sessions as well as appearances from Hillary Clinton and Al Gore, among other well-known names.
As part of a panel discussion entitled "Putting the Customer at the Center of Your Business Applications Strategy—even ERP", Boensch will discuss Force 3's recent implementation of a new cloud-based ERP system. She will focus on how this strategy is helping Force 3 transition from a value-added reseller to a services company in the "Age of the Customer."
Boensch is Force 3's Director of Information Technology and Business Applications. In this role, she oversees internal IT functions and business applications, providing direction and strategy to streamline Force 3's internal functions.
The panel, which takes place this Wednesday, October 15, will also feature commentary from Paul Hamerman, Vice President and Principal Analyst at Forrester Research, Inc. and Adam Jones, Manager, Support Process Architecture at HP.
Force 3 has also been named a finalist in FinancialForce.com's 360s Customer Excellence Awards 2014 in the category of "Best ERP Vision," which recognizes customers who have demonstrated strong vision for the future of ERP via the combined power of FinancialForce applications and the Salesforce1 Platform. Winners will be presented with their award at the FinancialForce Community Day event today, Monday, October 13 in San Francisco.
About Force 3
Force 3 is the network security company. For over two decades, Force 3 has securely delivered and supported Security, Collaboration, Wireless, Virtualization, Next Generation Networking and IT Support solutions for Federal agencies. With headquarters in Crofton, Md. and offices in Herndon, Va., Force 3 has a relentless focus on customer success through innovation, unique solutions and highly trained, passionate people. Our dedication and commitment has earned the highest accolades from customers and partners, including Cisco, Citrix, EMC and VMware. For more information, please visit http://www.force3.com.