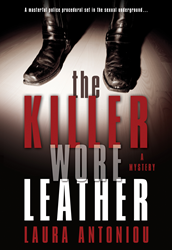 "Antoniou does a fine job translating the leather and kink scene into a difficult setting for the police to navigate."—Foreword Reviews
(PRWEB) October 13, 2014
National Leather Association: International, a leading organization for activists in the pansexual SM/leather community, announced the winners for excellence in literary works in SM/leather/fetish writing published in 2013 at its Annual General Meeting in Dallas, TX September 26-28, 2014 and held during Beyond Vanilla. The judges received a greater number of nominations this year than ever before and judging in most categories was quite difficult with such exemplary pieces of writing.
The Killer Wore Leather, by Laura Antoniou, won the Pauline Reage Novel Award. It has previously won the Rainbow Book Award for Best B/T & LGBT Contemporary Fiction, Mystery / Thriller, Contemporary & Historical Romance. It was also a finalist for a Lambda Literary Award.
The Killer Wore Leather
A Mystery
By Laura Antoniou
In Manhattan's Grand Sterling Hotel, home of the annual Mr. and Ms. Global Leather contest, last year's hunky but haughty winner lies dead on the floor of his suite, mysteriously wearing only a pair of frilly, bright yellow panties. Cormac "Mack" Steel made a lot of enemies during his year wearing the studded leather sash, not the least being his co-winner Mistress Ravenfyre. But she is not alone—there are over three thousand attendees from all over the world at this year's event, some of whom had very personal issues with the fallen leather world royalty.
Enter Detective Rebecca Feldblum, who must navigate a world of doms and subs, masters and mistresses, pups and trainers, leather, latex and lingerie, to discover who murdered the late Mack Steel—and hopefully do it before the weekend is over and everyone goes home. The Killer Wore Leather is also available as an audiobook.