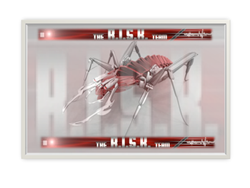 The vast majority of espionage activities are conducted by employees of those companies or by contractors employed by them. Statistically, 75 percent of proprietary information is lost from physical actions rather than hacking. Global E2C
Birmingham, Alabama (PRWEB) October 14, 2014
Today, The R.I.S.K. Team intelligence and counter espionage services expand throughout the southeast to companies and individuals who require a thorough sweep of all covert eavesdropping and hidden surveillance devices. The R.I.S.K. Team is an elite and well-equipped TSCM provider highly capable of detecting the activities of spies and moles seeking to obtain your proprietary information.
The FBI Assistant Director of Counterintelligence says that corporate espionage is a reality, and the "threat is so significant, and the harm can be so severe, that the FBI has listed it at the second highest priority, second only to countering the next terrorist attack."
With only a few TSCM providers in the entire Southeast and none physically in many of these states, The R.I.S.K. Team is considered the only team of high caliber qualified as TSCM professionals to protect your proprietary information and resources with an immediate 24-72 southeast dispatch.
The R.I.S.K. Team has been a covert operations division of "Millennium Risk Managers" for nearly a decade. "Our clients encompass a diverse base of employers that include municipalities, government agencies, health care industry providers manufacturing, retail, lawyers and service industry entities," said Tom Roper, President of MRM. Proudly representing approximately 900 employers operating within the State of Alabama, The R.I.S.K. Team (MRM) has provided successful TSCM Sweeps by special needs and requests.
The R.I.S.K. Team's main focus is on technical countermeasures for the containment of sensitive, proprietary, and confidential information.
Far too often, companies in the southeast have had to settle for TSCM providers being brokered and contracted by national online providers marketing services with inferior equipment, knowledge and experience to provide the level of detection necessary to protect organizations.
Businesses should be able to trust a team that conducts professional TSCM sweeps and with the proper state-of-the-art equipment requiring certifications. There is too much at risk when inferior equipment and unqualified people are disguised to do such an important job. The R.I.S.K. Team's operatives have all been hand picked, vetted and evaluated for team chemistry.
According to reports from Global E2C, the vast majority of espionage activities are conducted by employees of those companies or by contractors employed by them. Statistically, 75 percent of proprietary information is lost from physical actions rather than computer hacking.
Visit our special blog (Electronic Bug verses the Computer Hacker).
Targeted attacks are growing the most among businesses with fewer than 250 employees. Larger companies are outsourcing different component manufacturing job tasks to smaller companies. Small businesses are now the target of 31 percent of all attacks, a threefold increase from 2011. While small businesses may feel they are immune to targeted attacks, attackers hone in on small businesses that may often lack adequate security practices and infrastructure.
As your Responsive Intelligence and Surveillance Keys (R.I.S.K.) for protection, we have diverse inter-disciplinary competencies to provide a comprehensive and confidential service. We assist corporations with countermeasures and business counterintelligence policies, procedures and training. We also assist companies with awareness training and seminars to instill a culture and positive attitude regarding the protection of information.
In addition to our technicians being certified by Research Electronics Institute on the state-of-the-art free air analyzer utilized by most governments around the world including the White House for espionage detection, we have an in-house technology team of engineers developing new technology to deal with newly found threats. We are one of the few private entities that have this state-of-the-art equipment and are certified to use this equipment.
Another important part of our mission is keeping you informed. Visit our online "Espionage Awareness Center" and stay informed with the latest espionage news, video lessons, blogs and more. Also examine our "Find the Bug" interactive features and witness how eavesdropping devices can be planted in your board rooms, offices, home and auto.
Knowledge is power.
For more information about The R.I.S.K. Team, its services, certifications and offerings, please visit us at http://www.theriskteam.com
Ethical - Professional - Reliable - What RISKs are you willing to take?
Media: please contact info(at)theriskteam(dot)com or call 1-888 651-7178
Birmingham, AL 35243 Copyright © 2014 Millennium Risk Managers LLC