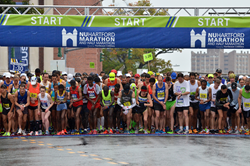 Hartford, CT (PRWEB) October 13, 2014
The 2014 NU Hartford Marathon, in its 21st running on Saturday, October 11, featured strong finishes by local and regional talent. Overall winner Matthew Pelletier from West Greenwich, RI, came in at 2:17:02 and will receive $6,000 in prizing, including bonuses for participation in New England Finest's Elite program. Pelletier set a PR after a second-place Hartford finish last year and his third place finish in the 2012 event. He was followed by Gesara Genemo of Washington, DC, who came in second at 2:17:26. One of today's leading Masters runners, Michael Wardian, 40, of Arlington, VA, placed third with a time of 2:25:57. Winning the women's marathon with a time of 2:41:01, Erica Jesseman of Scarborough, ME, returned to repeat her wins in 2013 and 2011. South Glastonbury's Katie Edwards, member of Team HMF, came in at 2:41:58, qualifying her for Olympic trials. Coming in third in the women's race was Karen Bertasso of Albany, NY, who finished in 2:45:45.
Top five marathon finishers are:
2:17:02 Matt Pelletier, 35 West Greenwich, RI
2:17:26 Gesera Genemo, 28, Washington, DC
2:25:57 Michael Wardian, 40, Arlington, VA
2:26:32 Tekeste Nurelign, 34, New York, NY
2:26:44 Tilahun Manesho, 27, Washington, DC
Top five women's marathon winners are:
2:41:01 Erica Jesseman, 25, Scarborough, ME
2:41:58 Katie Edwards, 32, South Glastonbury, CT
2:45:45 Karen Bertasso, 30, Albany, NY
2:50:05 Denise Sandahl, 34, Bow, New Hampshire
2:50:23 Emily D'Addario, 23, Boston, MA
In the 13.1 mile NU Hartford Half Marathon, the top three runners crossed the finish line within fractions of a second of each other. Westchester Track Club's Harbert Okuti won with a time of 1:05:15:66. Ethiopian runners Girma Gebr and Dereje took second and third with a time of 1:05:15:69 and 1:05:15:74, respectively.
For the second straight year, Megan Hogan, of Ballston Spa, NY, won the women's half. Coming in at 1:12:12, Megan was closely followed by second place finisher Etaferahu Temesgen of Ethiopia, whose time was 1:12:20. Hilary Dionne, of Charlestown, MA, took third place with a time of 1:14:19.
In the 5K, Staten Island, NY, runner Quenton Cassidy took first place with a time of 15:27. With a time of 15:56, William Griffin, of Brooklyn, NY, came in second. Claiming third place this year, Timothy Milenkevich of Ansonia, CT, came in at 16:25.
Women's 5K first place finisher was Yolanda Ngarambe, of Manchester, CT, with a time of 17:19. Kaela O'Neil, of North Kingstown, RI, came in second with a time of 17:31. With a time of 17:40, Bianca Martin of Portland, OR, won third place.
For complete results and division winners of the 2014 NU Hartford Marathon and Half Marathon and 5K races, please visit http://www.hartfordmarathon.com/Events/NU_Hartford_Marathon/Results.htm
About the Hartford Marathon Foundation
The Hartford Marathon Foundation, Inc. is a nonprofit organization founded in 1994 to create and manage fitness events that inspire people to be healthy and fit. Located in Glastonbury, Connecticut, the Hartford Marathon Foundation organizes nearly 42 annual athletic events, including the Hartford Marathon, and 25 training programs. For more information, visit http://www.HartfordMarathon.com and on Facebook at HMF Events.
About Northeast Utilities
Northeast Utilities (NU) operates New England's largest energy delivery company. NU and its companies are committed to safety, reliability, environmental leadership and stewardship, as well as expanding energy options for its more than 3.5 million electric and natural gas customers in Connecticut, Massachusetts and New Hampshire. Headquartered in Boston, MA and Hartford, CT, NU is a Fortune 500 company traded on the New York Stock Exchange under the symbol NU. Learn more about NU and its family of companies at nu.com.