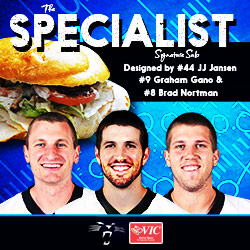 Matthews, N.C. (PRWEB) October 13, 2014
Date: Tuesday, Oct. 14, 2014
Time: 1 p.m. – 2 p.m.
Where: Morrocroft Village Harris Teeter
6701 Morrison Boulevard
Charlotte, N.C. 28211
Interviews are available. Live shots are welcomed!
Tomorrow, Oct.14, Carolina Panthers Kicker Graham Gano, Long Snapper JJ Jansen, and Punter Brad Nortman will team up with Harris Teeter to debut their personally designed Signature Sub Sandwich.
The players' sandwich, "The Specialist," is a must-try for Harris Teeter shoppers. For only $3.99, fans can satisfy their appetite with "The Specialist" which features roasted turkey and BBQ chicken topped with white American cheese, lettuce, tomato, BBQ sauce and ranch dressing on a kaiser roll. Shoppers can make it a lunch pack for only $4.99. The lunch pack includes "The Specialist" sandwich and choice of one Chocolate Chunk, Macadamia Nut, Oatmeal Raisin or Cranberry Nut Cookie.
"The Specialist" will be available in the Fresh Foods Market Sandwich Shop in all Charlotte-area Harris Teeter stores. Tomorrow only, however, Gano, Jansen, and Nortman will all make an appearance at the Morrocroft Village Harris Teeter to personally introduce shoppers and fans to their Signature Sub Sandwich. They will also be signing autographs.
Harris Teeter's Fresh Foods Market offers made-to-order sandwiches and wraps daily and is proud to introduce "The Specialist," Harris Teeter's second Panther Signature Sub Sandwich of the 2014 season. Be on the look-out for additional Signature Sub Sandwiches this season.