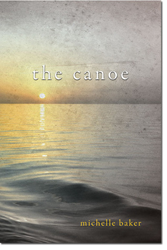 In 'The Canoe,' Michelle Baker's words compel us to feel the fragility and impermanence of life. She exposes our vulnerability and juxtaposes it with a vivid appreciation for the sweetness and sensuality of our human experience. -- Michael J. Gelb
Asheville, NC (PRWEB) October 15, 2014
Local writer and playwright, Michelle Baker announces the release of "The Canoe." Baker, who grew up in Annapolis, MD, used her family history as a springboard for her regionally based novel.
"The Canoe" tells the stories of Bernie Kingston, a teenage boy and the son of a Chesapeake Bay coffin maker, and Katherine Chambers, a middle-aged British woman in the throes of grief. Although the two characters never meet, their parallel stories unfold over the course of ten days in 1912, against the backdrop of the Titanic. Readers are taken on a heartfelt journey that juxtaposes Katherine and Bernie's voices and memories in this contemporary portrait of love and loss.
Baker is no stranger to the experience of life's fragility. A diagnosis of thyroid cancer two years ago was the instigating factor in her decision to write "The Canoe." "There is nothing like the thought of death to make a person stop and figure out, 'Now what?' For me, it was write a book. I had always wanted to write a book inspired by my grandfather's life."
Baker's grandfather was one of the first licensed mortician's in the state of Maryland. After his death, Baker wanted to ask him how the news of the Titanic's sinking affected his family. Just as many adults today can say where they were on September 11, 2001, people who were alive in 1912 could tell each other where they were when they learned of the sinking of the Titanic. "The Canoe" is Baker's answer to the question she would have asked her grandfather.
"I would like for readers to contemplate parallel stories, how when one event happens, there are always a million other things happening as well," Baker says. "I also would like readers to consider their own responses to tragedy, and consider how our individual responses influence our collective culture."
Baker finds that creative expression is key to how she processes experiences. "I believe it is the safest way to express our most difficult and challenging emotions," said Baker. "In sharing our difficulties through creativity, we provide a light that invites and allows other people to see into the darkness of their own lives, offering a chance to imagine, to choose, and to live differently."
No stranger to writing, Michelle Baker is editor-in-chief of the Millionaire Girls' Movement, an online platform educating women on how to secure their financial success. Baker is also a contributor for Huffington Post.
A playwright as well as an author, her one-woman show Sole Survivors, toured for two years, and told the lives of four characters and their immigration stories from Mexico and El Salvador.
An engaging speaker, Baker will launch her book tour in November, and is available for book signings and speaking engagements. She welcomes meeting up with book clubs across the country in person or via Skype and phone. A book signing featuring Baker and The Canoe is scheduled at Malaprop's Bookstore/Café (55 Haywood St., Asheville, NC) on Sat., Nov. 15 at 7 p.m.
Praise for The Canoe:
"Michelle Baker has created a memorable gem of a story in The Canoe. Her sparse, evocative use of language engages the senses and the interplay of themes of love, loss, fate and faith engages the mind. This little book is worth reading and reading again." —Anne Hillerman, author, "Spider Woman's Daughter"
"This is a dazzling, deft collision of the human experience, history with an audible pulse, and truly literary expression. Baker navigates The Canoe's ambitious themes boldly and leaves the reader richer for it." – Candace Walsh, Author of "Licking the Spoon: a Memoir of Food, Family, and Identity"
"Pure poetry in motion. A swift-moving, heartfelt tale of love and loss, two stories intersecting—and connecting—by magic. Michelle Baker is a born poet, and a born writer. The Canoe is just the start of what I hope to be a long idyllic journey through the love and soul of the human heart." –Trent Zelazny, Author of "People Person, and To Sleep Gently"
"Michelle Baker's mesmerizing prose places readers in peril in terrifying, exhilarating ways that are rare in contemporary literature. In The Canoe's converging stories of wild love and unimaginable loss, the author has conjured the human tribe at the moment of wonder when we open our arms to life and at the moment of awe when we open them to the embrace of death." –Kevin McIlvoy, Author of "The Complete History of New Mexico & other stories, Hyssop, Little Peg, and The Fifth Station"