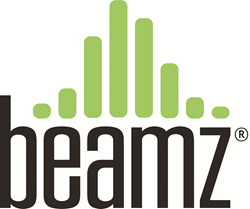 Leading research has proven that when children actively engage in music, it is equivalent to a full brain workout."
Scottsdale, Arizona (PRWEB) October 14, 2014
Beamz Interactive, Inc. (OTCQB: BZIC), a leading developer of state-of-the-art interactive music products, today announced a new early learning collection featuring 15 of The Learning Station's interactive music videos (IMVs) that can be played on the Beamz iOS & Android apps, or with the Beamz Laser Controller which connects to a PC, Mac, iPad or iPhone.
"Leading research has proven that when children actively engage in music, it is equivalent to a full brain workout," said Don Monopoli, co-founder of The Learning Station. "With Beamz Interactive Music Videos children choose the instruments, sound effects and specific activity responses to make their own unique audio track to accompany the videos. Those unique mixes can be recorded, shared and played over and over again. Or, a child can start from scratch every time, playing along and making their music videos different with every play."
Beamz Learning Station interactive music videos cover the alphabet, animal sounds, days of the week, months of the year, shapes, numbers, as well as popular nursery rhymes and kids' songs such as Five Little Monkeys and Bingo. In addition, The Learning Station is preparing a series of lesson plans to accompany this content for various pre-school and kindergarten programs.
"The Learning Station has received dozens of awards for its ability to positively impact children through inspirational learning songs and videos currently featured in classroom settings around the globe," said Charlie Mollo, Beamz Interactive CEO. "We are very excited to join forces with The Learning Station; we share the mutual belief that continued exposure and interactivity with music greatly impacts a child's future cognition, literacy and math skills. As we continue to focus our business strategy on the education and health markets, this announcement meets our objective to expand our content to impact classrooms, special needs programs and therapy settings such as children's hospitals."
Targeted at schools and families with Pre-K to early elementary-aged children, the new Beamz Learning Station Bundle features 15 of The Learning Station's blockbuster music videos enhanced with Beamz interactive music technology. A sample medley of Beamz Learning Station IMVs is provided with free Beamz iOS and Android apps. Individual music video titles are available for $2.99 each in all of the application stores and the complete bundle may be purchased on the Beamz Music site or Apple and Android application stores for $24.99.
"As advocates for using music to learn and have fun, it was a natural progression for us to expand our award-winning music videos with an interactive platform where kids and families can bond and truly interact with our content," added Don Monopoli. "We are honored to join efforts with Beamz Interactive technology to advance this interactive music video experience by inviting children to become co-composers of our music videos."
There are many positive educational rewards from this interactive music program. As children actively engage themselves in music, they improve brain development and increase primary areas of intellectual growth – boosting vocabulary, language, critical thinking, memory, literacy awareness, math comprehension and much more. This inviting and fun interactive program also inspires inventiveness as it encourages a child's imagination and creative free expression. View this video or click this link: http://www.thebeamz.com/at-home/early-learning/the-learning-station/ for more information.
About The Learning Station
The Learning Station is a multi award-winning children's recording and performing company. It is recognized for lively, interactive concerts that celebrate childhood and unite families with popular tunes that invite all to participate, sing, dance, laugh, move or play along. With combined backgrounds and degrees in early childhood education and music, co-founders Don Monopoli and Laurie Monopoli have a collection of 29 award-winning audio and video releases and they have published over 300 children's songs that are part of educational curriculums worldwide. They can frequently be seen at national and regional educational conferences as motivational, music keynote presenters communicating the values of music as a fundamental educational tool that inspires a thirst for learning. For more information visit: http://www.learningstationmusic.com/
About Beamz Interactive, Inc.
Based in Scottsdale, AZ, Beamz Interactive, Inc. (OTCQB: BZIC) develops innovative, interactive laser controller technology used in a wide variety of music, education, healthcare and consumer applications. The Beamz enables music educators and therapists to meet developmental objectives in classrooms and therapeutic settings. This state-of-the-art music technology brings music to everyone by simply allowing users to access hundreds of sounds, instruments, vocals and music clips at one's fingertips. Beamz allows people that have no musical background or training to play and enjoy music within minutes, yet it has the depth to enable accomplished artists and musicians to perform, compose and create highly sophisticated interactive music. The Beamz product line includes a laser controller with four laser beams, and free iOS and Android mobile apps, a product line focused on education and healthcare as well as consumers. In addition, the company features an extensive library of interactive songs to play on all platforms. Beamz Interactive's technology holds multiple patents, patents pending and trade secrets covering interactive music, software, laser-based controllers, mobile applications and related designs and devices. For more information on Beamz, please visit: http://www.thebeamz.com.
Follow Beamz on Facebook, Twitter and YouTube. For comprehensive investor relations material, including fact sheets, multimedia resources, and videos regarding Beamz, please follow the appropriate link: Beamz Product Video, and Beamz Investor Materials.
Forward-Looking Statements
This press release may contain forward-looking statements that reflect the Company's current expectations and projections about future results, performance, prospects and opportunities. These forward-looking statements are based on information currently available to the Company and are subject to a number of risks and uncertainties. The Company's actual results could differ materially from those anticipated in these forward-looking statements as a result of a variety of factors, including those discussed in the Company's periodic reports that are filed with the Securities and Exchange Commission and available on its website (http://www.sec.gov). All forward-looking statements attributable to the Company or persons acting on its behalf are expressly qualified in their entirety by these factors. Other than as required by law, the Company assumes no obligation to update publicly or to revise these forward-looking statements.
Company Contacts:
Beamz Interactive, Inc.
Charlie Mollo, CEO
505.263.9707
charlie.mollo(at)thebeamz(dot)com
The Learning Station
Don Monopoli
321.728.8773
thelearningstation(at)cfl.rr(dot)com
Media Contact:
Eye-To-Eye Communications, Inc.
Cathy Sperrazzo, Managing Partner
858.337.7746
cathy(at)eyetoeyepr(dot)com