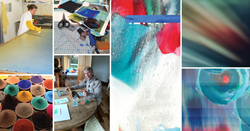 We teamed with Liquid, known for its bold thinking and innovative processes, to bring a new perspective on what it means to honor the human touch in a world increasingly driven by technology.
San Jose, Calif. (PRWEB) October 15, 2014
Independent brand experience firm Liquid Agency, today announced the launch of an innovative brand expression for Jive Software, the leading provider of modern communication and collaboration solutions for business. Unlike any brand redesign of its kind, Liquid and Jive brought artists from around the globe together on the Jive platform to collaborate and produce artwork inspired from a new brand framework. The strategy and brand applications have now rolled out as part of Jive's comprehensive communications plan to inspire and engage the millions of people who use Jive.
"Jive's mission is to empower people to work better together. We draw on our deep understanding of how people connect, communicate and collaborate at work to enable employees, partners and customers to achieve their objectives," said Elisa Steele, executive vice president of marketing and products. "We teamed with Liquid, known for its bold thinking and innovative processes, to bring a new perspective on what it means to honor the human touch in a world increasingly driven by technology. Jive and Liquid co-created a unique approach of defining our brand expression through the power of human collaboration on our own product. While doing this we created an immersive brand experience that is uniquely Jive."
Only Art is Human: A Unique Collaboration Project that Fuses Analog, Digital, and Brand
With the help of Elizabeth Leach Gallery in Portland, Ore., five artists from around the world were invited to co-create a series of artwork that would serve as the foundation for the brand. Using only the Jive product as their medium of communication and sharing, the aptly named Jive Five artists had five days to generate as many pieces as they could. Together, Liquid and Jive designed collaboration parameters where all discussions and contributions —from concepts to work in process and final artwork, were created in real time via the Jive product. Liquid then selected and framed the artwork and key insights to establish the new Jive identity, brand expression, and other program elements.
"Initially I was doubtful. I was collaborating with a list of artists I didn't know, and who weren't together physically – all using this virtual platform with a really tight timeframe. There were lots of unknowns and risks. But it came together beyond my expectations. It worked amazingly well." Richard Gruetter, artist, professor, and one of the Jive Five participants based in Spain. "We live in a world that needs community and sharing. This type of communication and collaboration is a real step forward."
Brand Implementation
Jive initially developed a strategy that would reinforce the origins of Jive's brand promise—empowering people to work better together. Using the artwork and insight from the Only Art is Human collaboration project, Liquid and the Jive internal creative team developed a new brand expression, associated brand visuals, and a set of guidelines to enable Jive to implement it across different media and applications. Liquid and Jive also produced new iconography, photography, video, website updates, and other brand applications to help Jive amplify and consistently represent the human-centric, connected, and cooperative purpose of its brand across various customer touch points.
"Every element of the brand expression is meaningful," said Scott Donnell, senior director of creative at Jive. "By integrating the product and culture into the art itself, Jive creates what many brands try and fail to achieve: actual authenticity in its storytelling.
The new brand identity, brand visuals and original story about the Only Art is Human Collaboration Project are available here. A new Why Jive & Manifesto video, produced by Liquid Agency that expresses the brand purpose is available here.
"Partnering with Jive to refresh the brand was a natural fit from day one. Not only is Jive an amazing collaboration platform, but the Jive company culture is akin to our own at Liquid," said Alfredo Muccino, chief creative officer at Liquid Agency. "Collaboration truly drives innovation. The partnership and work produced with Jive is a great example of how meaningful branded experiences are brought to life through collaboration and we're honored to help Jive bring this level of authenticity to its brand."
Jive (NASDAQ: JIVE) is the leading provider of modern communication and collaboration solutions for business. Recognized as a leader by the industry's top analyst firms in multiple categories, Jive enables employees, partners and customers to work better together. More information can be found at http://www.jivesoftware.com.
About Liquid Agency
Liquid Agency advances brands and business through Silicon Valley Thinking. With brand at their core, they create holistic brand experiences that help companies create greater value. They work in partnership with their clients in a highly collaborative way – one that favors experimentation, curiosity, and big thinking.
Founded in 2000, Liquid has grown into one of the top agencies rooted in the Silicon Valley. Today, they have offices in San Jose, San Francisco, Portland, New York, Nottingham, UK and Santiago, Chile. Their work encompasses brand strategy, brand identity, brand marketing, environmental branding, employee branding, digital branding, and brand management. Liquid has helped launch new products and companies, revitalize existing brands, deliver complete retail merchandising solutions, interactive branding programs, integrated marketing campaigns, and comprehensive environmental branding projects. Liquid works with a diverse set of clients including Adobe, Cisco, Google, HP, Intel, Microsoft, NASDAQ, Nike, Sony, and Walmart.
# # #