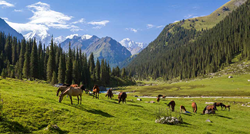 Kazakhstan and Kyrgyzstan are the latest in a line of "Stans" to get the Remote Lands ultra-luxury treatment
(PRWEB) October 14, 2014
Remote Lands, the world's leading ultra-luxe Asia travel designer, is continuing its expansion into Central Asia this week, with the addition of Kazakhstan and Kyrgyzstan to its luxury travel services portfolio.
After launching Uzbekistan tours back in April, Kazakhstan and Kyrgyzstan are the latest in a line of "Stans" to get the Remote Lands ultra-luxury treatment. Kazakhstan is the world's ninth-largest country, and the largest landlocked nation on the planet, and as such, is home to a wonderful array of memorable attractions, including the Tien Shan Mountains, the beaches of the tranquil Caspian Sea, and the historic city of Turkestan. The country's topography also makes it a wonderful destination for skiing, winter sports and adventure holidays.
Whilst Kazakhstan is already somewhat established as a visitor destination, mostly for business travel to this oil-rich nation, neighboring Kyrgyzstan's travel industry is still in its soft-launch phase, discovered by few visitors other than intrepid backpackers. Yet the country boasts some spectacular scenery, including the culturally-rich Fergana Valley, the exceptionally popular Issyk-Kul Lake (the world's second-largest Alpine lake) and Chon-Kemin Valley with its flowing rivers and majestic mountain ranges, as well as a varied range of activities including horseback riding, trekking and overnighting in a traditional yurt.
Jay Tindall, Remote Lands' co-founder and COO, recently returned from visits to both countries and was extremely impressed by what he saw. "Kazakhstan makes a great soft landing for first-time visitors to Central Asia," he says. "Its biggest city, Almaty, is well-developed and has a real European feel to it, and is also home to the region's best luxury hotel in the Ritz-Carlton Almaty; a fascinating contrast to the country's remote, rural areas."
Tindall was similarly enthused by his experiences in Kyrgyzstan. "It's one of Asia's great undiscovered destinations," he explains. "During my time there, the only foreign visitors I met were a group of adventurous backpackers. The scenery is stunning, and the country reminds me of Mongolia for its natural beauty, large desert areas and sparse population including many nomads – except it's even more beautiful and much less developed."
Remote Lands plans to add more Central Asian destinations shortly. To find out more about the company, visit http://www.remotelands.com or email info(at)remotelands(dot)com.
About Remote Lands, Inc.
Remote Lands, Inc. creates highly-personalized, ultra-luxe holidays in Asia, optionally by private jet or yacht. Based in New York and Bangkok, they specialize in extraordinary experiences that are difficult to arrange and require privileged access to important people and exclusive events, drawing upon their relationships with remarkable people around Asia. They distinguish themselves by their unparalleled service, creative itineraries and extreme attention to detail.
Remote Lands has been featured in The New York Times, The Wall Street Journal, Departures, Travel + Leisure, Condé Nast Traveler, Town & Country, the BBC, Fox Business News, Financial Times, National Geographic Traveler, W, Newsweek, Forbes, BusinessWeek and more.