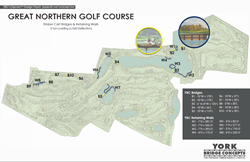 "I am honored to be a part of this prestigious project, the first in its class." - York Bridge Concepts CEO, James York
(PRWEB) November 17, 2014
Scheduled to open in 2015, Great Northern Golf Course is the first Danish course designed by Nicklaus, and the choice destination for discerning golf enthusiasts in Northern Europe. Anticipated to be one of Scandinavia's best, this prestigious 100 acre, 18 hole Golf Course has enlisted the experience of York's Decero™ Design & Build team for the creation and on-site construction of ten timber bridges and twelve bulkheads and cascade walls throughout the grounds.
After several development sessions with the owners and directors to finalize designs and approve drawings, York Bridge™ has initiated on-site construction, mobilizing to the European nation with industry-leading professionals who share over 100 years of combined experience in the timber bridge construction industry. Building with superior Azobe hardwood exclusively imported from Africa, YBC's Decero™ Design Department has revised its on-site approach to construction to ensure success. "I have the utmost confidence in the efficiency and talent of our Denmark crew. Erecting our designs with the physical and mechanical properties and tight interlocked grain of this particular hardwood is a challenge that can only be realized by the pioneers in the industry. I am honored to be a part of this prestigious project, the first in its class," confirms James York, President and CEO of York Bridge Concepts, Inc.
Founded 30 years ago and standing behind thousands of timber structures worldwide, York Bridge Concepts™ was the obvious choice when selecting a full-service Timber Design & Build company that would enhance the naturally beautiful environment that surrounds the Great Northern setting. "After thirty years as the Nation's Premier Timber Bridge Company, our incursion into the global market has flourished through our relationship with Great Northern. We are proud to be associated with both Great Northern Golf Course and it's investors, and to partner in the development of this unique concept with Nicklaus Design," said Gilda Dreyfus, York's Director of International Development. With an impressive understanding of the vision behind the design, YBC created unique crossings and aesthetic additions to harmoniously integrate into the Danish countryside. The timber structures will be located throughout the golf course and will be used by the players and guests of the prestigious venue as crossings and viewing areas of the soon to be world-class course.
About York Bridge Concepts™
York Bridge Concepts, Inc. (YBC) is the nation's largest on-site timber vehicular bridge builder. YBC works with industry-leading owners and developers on prestigious projects throughout the U.S. and internationally, creating more than just a solution for crossing lakes, streams, creeks, wetlands or ravines. In this competitive real estate market, developers who want to ensure that their project stands apart from the competition use York Bridges to add value and create a feeling of exclusivity, warmth, and quality for their customers. Based in Lutz, Florida, with almost 30 years of experience, YBC has become well-known for their expertise and cutting-edge innovation in timber bridge design and on-site construction.
For more information, contact Gil Dreyfus at (800) 226-4178 ext. 109 or visit http://www.ybc.com.