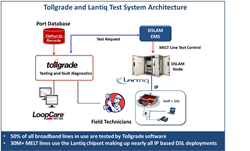 This is a high-speed data driven world. As broadband service providers roll out NGN networks, it is imperative that they not lose the testing capability the industry has come to trust as its standard over the last two decades.
AMSTERDAM, The Netherlands (PRWEB) October 21, 2014
Tollgrade Communications, Inc. and Lantiq announced today that they have partnered to offer broadband carriers a best-in-class, seamless and standardized line testing solution for Next Generation Networks (NGN). The solution combines Lantiq's MELT chipsets with Tollgrade's LoopCare Operations Support System (OSS) software and allows telcos to migrate field proven and mature test expertise to the requirements of new all-IP networks.
The combination of Tollgrade's LoopCare software and Lantiq's industry-leading Metallic Line Testing (MELT) enables broadband service providers to execute seamless DSL testing that starts at the chip and ends with Tollgrade's trusted fault diagnostics and analysis software.
Half of all existing broadband lines in use today are tested using Tollgrade's OSS software and more than 30 million shipped MELT lines use the Lantiq chipset (which represents nearly all IP-based DSL deployments today). With this partnership, customers benefit from the market leading expertise position of both companies as they migrate to Next Generation Networks to improve DSL performance.
Comments:
Edward H. Kennedy, President and CEO, Tollgrade Communications:
"This is a high-speed data driven world. As broadband service providers roll out NGN networks, it is imperative that they not lose the testing capability the industry has come to trust as its standard over the last two decades. With this solution, we continue to future-proof the investment broadband service providers make as they migrate to new DSL networks."
Johannes Eiblmeier, Vice President and Head of the Voice and Telecom Products Business Line, Lantiq:
"As broadband service providers continue migrating network infrastructure towards NGN architecture, the introduction of efficient and seamlessly integrated line testing software and chipsets is paramount. With Lantiq's MELT chipsets, carriers can perform PSTN-grade line testing even in all-IP networks. Single infrastructure IP-based networks for voice and data transmission require accurate measurements that can be directly performed, elaborated and processed by the Lantiq/Tollgrade offering."
Key Benefits of the Partnership:

Combined solution from Tollgrade and Lantiq eliminates the need to compromise speed for accuracy of testing, allowing broadband service providers to confidently build out their NGNs without losing the automation, accuracy and availability needed by customer service and repair organizations.
Market leading MELT chipsets and Tollgrade LoopCare OSS software future-proof investments when migrating to new DSL networks.
The solution integrates Lantiq's accurate and cost effective multi-channel MELT technology using the VINETIC-LTC128 plus Smart SLIC-T16/MLT16 chipset with Tollgrade's LoopCare to provide automated testing.
Sophisticated line and loop testing features allow broadband service providers to monitor voice quality and network stability in real-time with zero impact on DSL performance.
MELT is part of the ITU G.LT (G.996.2) standard and supports all xDSL flavors like VDSL2, ADSL2+ and SHDSL.
Demonstrations at Broadband World Forum from 21-23 October 2014
Tollgrade and Lantiq will preview these new DSL testing capabilities at the Broadband World Forum in stand C10 at the RAI Exhibition & Convention Centre, Amsterdam. The companies invite the press, media and public to attend a demonstration of the integrated hardware/software solution. For more information visit http://www.lantiq.com/MELT or contact getLoopcare(at)tollgrade(dot)com.
About Lantiq
Lantiq, a leading supplier of broadband access and home networking technologies, offers a broad and innovative semiconductor product portfolio for next-generation networks and the digital Home.
More Information about Lantiq is available on our Website or via Twitter @Lantiq, LinkedIn and YouTube.
About Tollgrade
With more than 200 million lines under test, millions of utility outage minutes avoided annually and 25 years of experience successfully locating faults at the world's largest electric utility companies and telecommunication service providers, Tollgrade is redefining the global standard for reliability. Tollgrade's award-winning fault detection hardware and predictive analytics software is deployed on four continents to help broadband service providers restore network outages and reduce customer downtime. In 2014, Tollgrade was recognized as a Leading Lights Award Finalist in "Outstanding Test and Measurement" by LightReading and won a Silver "Stevie" award from the American Business Awards in the Telecom "New Products" category. Learn more by visiting http://www.tollgrade.com.
Lantiq Media Contacts
Christoph von Schierstädt
Media Relations & Internal Communications
Lantiq Deutschland GmbH
phone: +49 (89) 89899 - 7556
mobile: +49 (160) 96901486
e-mail: schierstaedt(at)lantiq(dot)com
VISIT US AT: http://www.lantiq.com
Lantiq Social Media: http://www.lantiq.com/media-center/news-press/social-media/
Tollgrade Media Contacts:
Kimberly Getgen
Vice President, Corporate Marketing
Tollgrade Communications, Inc.
+1 703-408-1571 (mobile)
+1 703-707-4561 (office)
Anne-Laure Leroyer
Manager, Marketing Communications
Tollgrade Communications, Inc.
+1 202-701-0083 (mobile)
+1 703-707-4588 (office)
###