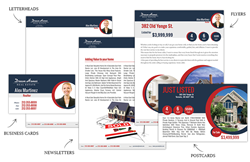 Brochures, flyers, and other literature can ultimately drive traffic to a real estate website.
Toronto, Ont. (PRWEB) October 16, 2014
WebsiteBox, a technology startup that provides real estate professionals with a do-it-all website for a one-time fee of $99, today announced Prints App, an easy-to-use application for producing printed real-estate marketing materials. With Prints App, agents quickly can produce professional-quality marketing collateral.
"Real estate agents rely on print marketing for branding, to connect with former clients, and to attract new clients," said WebsiteBox CEO Peyman Aleagha. "While much of the real estate world is moving online, a creative and consistent print marketing campaign is still essential to increasing a Realtor's visibility within the community. What's more, quick, clean messages on brochures, flyers, and other literature can ultimately drive traffic to a real estate website."
Automatically integrated with WebsiteBox websites, Prints App pulls information from listings for use in print materials. Agents can use the app to create vibrant business cards, newsletters, flyers, postcards, letterheads, property sheets, and other materials in three simple steps:
1. Agents select the type of print piece and layout they want to create. The prints wizard helps users customize the piece with intuitive drag-and-drop editing tools.
2. Next, the app automatically loads data from the multiple listing service. No manual data entry is needed.
3. In the final step, the app turns the marketing collateral into a high-resolution PDF file that agents can print immediately. Or, place an order to have it professionally printed and delivered right to their doorstep. PrintChomp, a WebsiteBox partner will fulfill the order allowing Realtors to manage their entire print project from the app."
"Prints App provides Realtors with a straightforward and inexpensive way to share news, tell a success story, or invite buyers to a new listing – all from one simple platform," Aleagha said.
Customers can purchase the $99 WebsiteBox Prints App on the WebsiteBox website Apps & Extras page: http://www.websitebox.com/realtors/apps-extras.php. More information is available from Marketing Manager Chad Bhalla. Contact: chad.bhalla(at)websitebox(dot)com, or 1-866-857-1657 x1113.
About WebsiteBox
Launched in January 2013 by Internet entrepreneur and real estate marketing expert Peyman Aleagha, WebsiteBox is a Toronto-based startup offering feature-rich, mobile-friendly real estate websites and tools for agents, teams and offices at a one-time, $99 price – the lowest in the market.
WebsiteBox is quickly gaining prominence in the real estate and entrepreneurial markets. Less than six months after launch, WebsiteBox™ was named to HousingWire Magazine's inaugural RETech:50 list of top real estate technology firms for 2013.