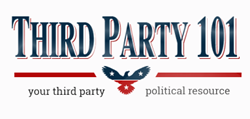 Aspen, CO (PRWEB) October 16, 2014
Just in time for the November mid-term elections, local author and political thought leader, Steven Nemerovski, launches a third-party political resource website – ThirdParty101.com.
"We know that effective, competitive third-party politics will fix the dysfunction and polarity in American politics. Our site is dedicated to giving America's third party a voice and a venue," says Nemerovski. "Third Party 101 will serve as a comprehensive resource center for all things third party."
The site's highlight is a user-friendly, interactive map that showcases third party and independent candidates for each state. This functionality wouldn't have been possible without the tireless research of the Ballotpedia.com team.
The site also features numerous episodes of Nemerovski's television show, None of the Above. The show explores solutions to dysfunction and polarization through interviews with individuals playing important roles in the evolution of the American political system. Discussion of the sources of dysfunction and polarization in politics and government, book reviews, informative articles and breaking news can also be found on the site.
Third Party 101 is non-partisan and, as such, does not advocate on behalf of any particular party, causes or ideologies; rather the notion that our democratic process will be better served at all levels of government when (1) there is enhanced dialog regarding the critical issues of the day, (2) that dialog occurs with a heightened sense of civility and respect and, (3) the system is brought back toward the center.
About Third Party 101:
Third Party 101 is the brainchild of Steven Nemerovski who has been involved in politics and government for over thirty years – including campaign management, consulting and lobbying. He is also the author of the "E Party" series of novels, a fictional depiction of our country's need for effective, competitive third parties and a roadmap to get there. "E Party Volume I: Starting in the Middle" was published in 2010. "E Party Volume II: Strange Bedfellows" is scheduled for release in 2015. The Third Party 101 website is dedicated to the proposition that ever increasing dysfunction and polarity within our great American experiment in Democracy can be ameliorated with effective, competitive third party politics. Accordingly, Third Party 101 will serve as a comprehensive resource center for all things third party. http://www.ThirdParty101.com