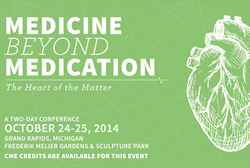 Grand Rapids, MI (PRWEB) October 15, 2014
La Vie de la Rose Flower Essences will be exhibiting at 2nd Annual Medicine Beyond Medication Conference taking place October 24-25, 2014 in Grand Rapids, MI. Presented by Universal Health Solutions, this two-day conference was created to bring together the medical community to discuss and explore various modalities of integrative medicine in conjunction with more traditional practices. This year's conference theme is "The Heart of the Matter."
"I believe in integrative healthcare solutions. I believe in them because I've seen them change my own life, and I want others to experience the same health benefits I have as a result of this care," says Laurie Angell, Founder of Universal Health Solutions.
See the List of Conference Speakers
Flower essences are a profound form of energy medicine and have long been part of the traditions of Earth-based and natural healing. For millennia, healers of all descriptions have accessed and utilized the intelligence inherent in Nature for a variety of purposes, particularly personal transformation. In recent times, this ancient modality has experienced a significant evolution, becoming one of the most potent forms of natural healing available.
About La Vie de la Rose Flower Essences
Established in 2006 by Founder and President Dr. Natalia Schotte, La Vie de la Rose Flower Essences is a Michigan, USA-based women's collective dedicated to creating products and services to accelerate spiritual growth. Accelerated Spiritual Growth™ is a unique concept developed by Dr. Schotte and a registered trademark.
Dr. Natalia Schotte is a pioneer and visionary in the fields of Spiritual Growth and Spiritual Healing. She has been an internationally acclaimed counsellor, healer, intuitive, speaker and teacher for over 25 years. Dr. Schotte holds a Ph.D. in Spiritual Counselling from The Open International University for Complementary Medicines. Dr. Schotte is ordained through the International Council of Community Churches. She earned her Bachelor's and Master's degrees in Industrial Relations from the University of Toronto.