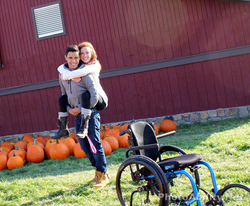 Fall is the perfect time to feature real people living with disabilities in promotions and editorials
(PRWEB) October 15, 2014
A search inquiry for "Autumn" or "Halloween" will find images ranging from young children using wheelchairs picking the perfect pumpkin; to a teenager with paralysis getting a piggyback ride through a pumpkin patch; to adorable Halloween costumes modeled by children with developmental disabilities. These stock photographs are a great resource for any company or marketer who wishes to showcase diversity and inclusion of people with disabilities.
PhotoAbility is offering an incentive to potential customers to utilize these images with a coupon code providing 20% off all images in the gallery by entering Fall2014 upon checkout.
The gallery only features models with actual disabilities. In doing so, it is creating a commercial opportunity for people who may not have had the opportunity to model professionally before. PhotoAbility is encouraging photographers, advertiser and business to take a more inclusive view of the models they choose and widen their perspective on the types of activities people with a disability undertake. Both the models and photographers share in the proceeds of the sale of the images and also have the opportunity to donate some or the entire commission to support organizations of their choice.
By creating and investing in a commercial library system, PhotoAbility has made it simple for media buyers, editorial staff or advertising agencies to find disability inclusive imagery. They can easily review images, make selections, create lightboxes, download comping images, purchase and download online. Buyers have the opportunity to request quotes on the purchase of multiple images to form a theme. PhotoAbility will also undertake photoshoots to fulfill specific client needs or help source suitable models via the Model Casting Page.
About PhotoAbility
PhotoAbility was established in March 2012 by Deborah Davis, of Fort Lauderdale, FL (a wheelchair user from C-6-7 Spinal Cord injury at 18) and Bill Forrester of Melbourne, Australia. The goal of the library is to provide high quality, unique, non-medically oriented imagery of persons with disabilities for the purchase by the advertising, marketing and media sectors. The Commercial Stock Image Library specializes in positive and "Inclusive" images of people with a disability in leisure, lifestyle and travel settings.
It is the aim of our image gallery, to increase awareness of the value in maintaining and making structural and attitudinal changes, and to encourage the participation of those with differing abilities around the world.