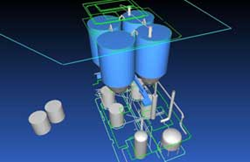 Safely obtaining accurate measurements and features of industrial plants for design and construction projects can be challenging. 3D laser scanning helps reduce risks and provides 3D visualization for an improved design process.
Elyria, Ohio (PRWEB) October 16, 2014
KS Associates, Inc., a civil engineering and surveying firm located in Elyria, Ohio, will be among the presenting companies at the Cleveland Engineering Society (CES) Annual Industrial & Manufacturing Conference and Tradeshow. The one-day conference takes place on Thursday, October 30, 2014, at Lorain County Community College (LCCC). Mark A. Yeager, P.S., KS Associates' Director of Surveying Services, will lead an informative breakout session entitled, "Unlocking the Power of 3D Laser Scanning in Manufacturing and Industrial Applications."
3D laser scanning has expanded the role of the Land Surveyor into new applications, including the design, construction, and operation of industrial plants. KS Associates' presentation will explain how 3D laser scanning and LiDAR technology work, and will address the various applications for this technology. The presentation will focus on how scanning can aid in the creation of accurate plans of existing facilities. The session will include a live demonstration of 3D modeling and 3D visualization of existing manufacturing facilities and operations.
According to Yeager, "Designing improvements to existing manufacturing and industrial facilities can be challenging. Engineering plans are often outdated or non-existent. Safely obtaining accurate measurements and plant features, such as process piping, equipment and structural elements, can be difficult. KS Associates' presentation will demonstrate how 3D laser scanning is an excellent tool to accomplish industrial plant data acquisition and to reduce risks."
About KS Associates, Inc.:
KS Associates, Inc. is a civil engineering and land surveying firm founded in 1987. The firm provides planning, design, bidding and construction phase services related to public infrastructure projects in the areas of transportation, potable water, waste water and storm water; site development engineering services for institutional, commercial and residential uses; coastal engineering services; land surveying and mapping services; and 3D laser scanning services. KS Associates, Inc. is a Disadvantaged Business Enterprise (DBE). For more information visit: http://www.ksassociates.com.
About the Cleveland Engineering Society (CES):
The Cleveland Engineering Society is a non-profit professional development organization serving engineering and technical professionals by providing valued and topical conferences, professional testing review courses, networking, and leadership opportunities. CES fosters the exchange of information and ideas to advance development and recognition of the region as a technology center. The Annual Industrial & Manufacturing Conference addresses the issues of today's manufacturer. Sessions cover issues ranging from the critical workforce shortage to regulatory updates and technological innovations. For more information about the CES and to register for the conference visit: Cleveland Engineering Society.