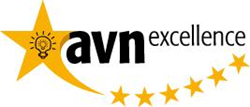 The accreditation is a fantastic accolade and tells us that we're doing a great job!
(PRWEB UK) 17 October 2014
Chelmsford-based accountancy practice, Lucentum, has recently earned a 6-star rating in the national AVNExcellence scheme.
Lucentum is a professional practice of Chartered Accountants who believe in giving businesses the tools, services and support that build better, stronger businesses. Keen to achieve a clear and objective appraisal of its systems and performance, Lucentum's substantial team of 18 staff and consultants recently elected for AVNExcellence assessment. Managing Director, Melinda Atkinson reflects, "We're always keen to improve what we do for our clients. We enjoy helping others to build brighter businesses – so we have to make sure we shine in everything we do!"
AVNExcellence was created by AVN, an innovative national association of accountants whose members are passionate about helping their clients enjoy and build more successful and profitable businesses. The aim is simple: to enable accountants to provide their clients with outstanding service and results, every time. Existing accountancy accreditation systems review compliance and other particular issues, but AVNExcellence is far more detailed and looks at the business as a whole. It examines a firm's systems, people, customer service and overall experience and, importantly, how it helps its customers to develop and grow their businesses. Highly trained, independent assessors examine every aspect of an accountancy practice against tough new standards.
The firm is delighted with its accreditation. "The accreditation is a fantastic accolade and tells us that we're doing a great job," says Melinda. "But no professional business should ever stand still and the AVNExcellence process gives us the structured development plan that will keep us improving in every way."
AVNExcellence is setting the standard for accountancy firms all over the UK, which can only be good news for business and the economy. In the meantime, business owners in Essex who want to reach their potential and work with a leading, 6-star accountancy firm can learn more about Lucentum at http://www.lucentum.co.uk.