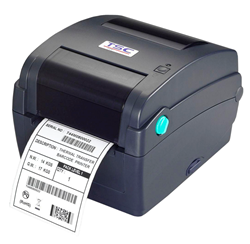 This desktop label printer is perfect for retail environments. Depending on the retailer's needs, it can print receipts, labels, tags, coupons, or barcodes
Englewood, FL (PRWEB) November 05, 2014
GiftLogic Point of Sale software users have yet another option for extending their software: the TSC TTP-343C thermal transfer barcode printer. According to a GiftLogic spokesperson, "This desktop label printer is perfect for retail environments. Depending on the retailer's needs, it can print receipts, labels, tags, coupons, or barcodes -- and it has a compact, space-saving design."
The spokesperson explained that the thermal label printer accepts a variety of media types up to 4.4 inches wide: "From printing retail tags and receipts to inventory shelf and carton labels, this little label printer is extremely versatile. It's super easy to swap out rolls of labels, tags, and receipt paper as needed. What's more, GiftLogic fully supports the TSC TTP-343C."
GiftLogic Point of Sale software comes preloaded with label layouts compatible with popular label products such as Avery, DYMO, and Kimdura.
"Many of our customers are using Kimdura labels and tags for tagging jewelry and coins," explained the GiftLogic spokesperson. "Kimdura's heat sensitive labels can withstand heat from display lamps and steam cleaning, making them ideal for these products. GiftLogic makes it easy for retailers to design attractive Kimdura labels and tags for use with the TSC TTP-343C."
The spokesperson further explained that GiftLogic's Label Layout Designer allows users to start with either a pre-sized template or a custom layout based on the tag's dimensions: "From there, simply drag and drop design elements such as the store's logo and the item's details like its display name, UPC code, barcode, price, discount, and thumbnail."
According to the spokesperson, retailers currently using GiftLogic can order the TSC TTP-343C thermal transfer barcode printer directly from GiftLogic.com and begin using it immediately to print attractive retail labels, tags, receipts, and barcodes: "Setup is a snap, and we're here to assist if needed," they said.
About GiftLogic
GiftLogic offers small businesses a comprehensive point of sale system consisting of cash register and store management software and hardware bundles. GiftLogic POS comes complete with the most common cash register and point of sale tools required by retailers including cash register software, inventory management, purchasing and receiving, client relationship management tools, and reporting. Add-ons such as the thermal barcode printer, credit card processing, gift registry, and QuickBooks integration which allow retailers to build a complete POS system specific to their unique needs.