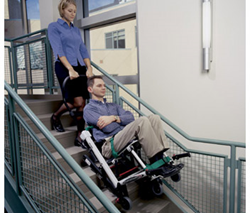 Englewood Cliffs, NJ (PRWEB) October 16, 2014
CWI Medical (http://www.cwimedical.com), a national home healthcare products supplier, recently released their latest thought leadership piece to raise awareness about the importance of evacuation plans.
For those who use wheelchairs or have a difficult time walking, evacuating during an emergency like a fire or earthquake can be an extremely arduous and dangerous process. In publishing this article, CWI Medical seeks to help the elderly and disabled have a clear evacuation plan in place for all emergency situations.
As the number one rated source for care and wellness products, CWI Medical is dedicated to helping people of all ages build a healthier future. Since many people don't think about emergency situations until they happen, the company determined it would be valuable to publish the key tenets of an effective evacuation plan that could potentially save lives.
"There are inexplicable events that can occur at any moment. In a fire or earthquake, stairs may be your only option, and getting someone out quickly who is wheelchair or bed bound of can make all the difference between life and death. With that in mind, we felt it was our duty to get out in front of this issue and help any way we can," says Alicia Lam, president of CWI Medical.
Some of the highly-recommended evacuation tactics mentioned in this piece include:

Creating a map of escape routes that shows the location of the stairs and exit doors.
Making sure all exits are not blocked and exit doors are never locked.
Installing a fire/smoke/carbon monoxide detector that is regularly checked.
Reviewing your plan with your neighbors, landlord or building superintendent.
Remembering to test batteries monthly and change them every 6 months.
In addition, the article strongly endorses making a list of important people and phone numbers you need to call and practicing your plan on a consistent basis.
For those who live on the second floor or above, CWI recommends using the Stryker Evacuation Chair. In the event of an emergency, the ergonomic design allows a single person to safely move a disabled person down multiple flights of stairs.
All the tactics laid out in this essential piece will help people find the best possible ways to properly prepare for emergency situations-- now and in the future.
About CWI Medical
CWI Medical, LLC is a national home health care products supplier specializing in health and wellness products. They offer home and repeat delivery, a customer rewards program and a complete line of nutritional supplements and enteral formulas. Their product line also includes durable medical equipment such as walkers, wheelchairs, bathroom safety items, aids for daily living and medical professional items for facilities and offices.