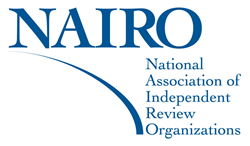 Experimental and investigational treatments, such as genetic testing or off-label drug use, often fall into gray area. Accredited IROs can serve as a resource to help wade through these gray areas - Gib Smith
Portland, OR (PRWEB) October 22, 2014
The National Association of Independent Review Organizations (NAIRO) announces the release of a new Issue Brief that provides guidance on experimental and investigational (E/I) treatment reviews, and the role of independent review organizations (IROs) in providing evidence-based reviews.
The Issue Brief, "Providing Leading Assessments of Experimental and Investigational (E/I) Treatments," is a guide that health plans, consumers and the wider health care industry can use to better understand the external review process as it relates to E/I treatments.
"Experimental and investigational treatments, such as genetic testing or off-label drug use, often fall into a gray area," said Gib Smith, Executive Director, NAIRO. "Accredited IROs can serve as a resource to help wade through these gray areas. "
In the event that a health plan denies coverage of a service such as E/I treatment, the patient often has the right to appeal through their health plan's internal and external appeals process.
The Issue Brief delves into the role that IROs play in providing evidence-based reviews of E/I-based appeals. Such reviews are based on the latest scientific evidence and standards within the medical community, a requirement that delivers transparency and best practice standards to health plans and consumers alike.
Examples of treatments that may be reviewed for E/I consideration include: proton beam radiation therapy (PBRT); genetic testing; combination drug therapies; and off-label use of approved drugs.
With the expertise of clinical reviewers and specialized knowledge of health care services, accredited IROs are equipped to make evidence-based decisions about these types of appeals.
The full Issue Brief is available here: http://nairo.org/news/providing_leading_assessments_of_experimental_and_investigational_e_i_treatments.en
About NAIRO
NAIRO (The National Association of Independent Review Organizations) was formed by the majority of URAC-accredited IROs. The mission of NAIRO is to promote the quality and integrity of the independent review process at the internal and external levels. Utilizing the expertise of board-certified clinicians throughout the country, NAIRO members embrace an evidence-based approach to independent medical peer review, in order to help resolve coverage disputes between enrollees and their health plans. More information can be found at http://www.nairo.org