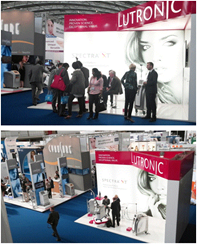 We are excited to see the SPECTRA XT was well received by European physicians at the EADV.
Fremont, CA (PRWEB) October 17, 2014
Lutronic, a global aesthetic and medical device company announces the launch of SPECTRA XT at the 23rd European Academy of Dermatology and Venereology (EADV), which was held in Amsterdam, the Netherlands, on October 8-12, 2014.
SPECTRA XT, a Nd:YAG based Multiplatform Laser for Aesthetic Medicine, received this month an update to its CE Mark, adding the following new indications: erythema, traumatic tattoo and acne. These additions to the already robust list indications, which include melasma, Nevus of Ota, ABNOM or Hori's nevus, freckles, solar lentigines, Café-au-lait, removal of minor vascular lesions and more, further improve the already versatile laser.
SPECTRA XT is the latest edition of the cutting-edge SPECTRA family of lasers, known best for its versatility and reliability. Its ease of use, robustness and wide range of clinical indications and applications make this device the top selling Nd:YAG laser worldwide.
It features:
▲ 4 Wavelengths (1064nm, 532nm, 595nm, 660nm)
▲ PTP(Quick Pulse to Pulse) Mode
▲ SPECTRA Mode (Max Output 45J/sec, 3 times enhanced)
▲ 10mm Spot size
▲ Variety of Handpieces including a Fractional handpiece
"We are excited to see the SPECTRA XT was well received by European physicians at the EADV," stated Haelyung Hwang, CEO of Lutronic Corp., S. Korea. "Lutronic is focused on developing highly efficacious systems that are versatile, this latest clearance furthers this effort."
In addition to the latest CE clearances for SPECTRA, the INFINI, which is fast becoming the top rated High Intensity Focused Radio-Frequency device, was featured in published studies:
▲Dr. Matteo Tretti Clementoni, Plastic Surgeon and Laser Surgeon in Milan, Italia published "Rejuvenation of the face and neck with a microneedle fractional radiofrequency device"
▲Prof. Dae Hun Suh , Dr. Seonguk Min, Dermatology, Seoul National University hospital published " A prospective, randomized, single-blind controlled study for the evaluation of fractional micro-needle radiofrequency on post-inflammatory erythema by acne" and "Comparison of fractional micro-needle radiofrequency and bipolar radiofrequency on acne and acne scar and investigation of mechanism: comparative randomized controlled clinical trial".
About EADV
EADV is a non-profit association, founded in 1987 and the largest Dermatology congress in European Society. Clinical and aesthetic dermatologists, scientists and other industry professionals from around the world gathered together for learning, training and exchange of ideas on current dermatology issues. Lutronic has been sponsored EADV Since 2005.
About LUTRONIC
Lutronic, a leading innovator in advanced aesthetic and medical laser and related technology, was established over 17 years ago to bring intuitive, robust, versatile devices that are affordable and efficacious to the worldwide medical community. Committed to improving medicine, Lutronic partners with key opinion leaders to advance science and ensure the efficacy of its systems. All systems are versatile and offer multiple setting and treatment options for customized treatments, which optimize outcomes for a wide variety of conditions and treatments including melasma, tattoo removal, soft tissue incision, vascular lesions, hair removal, wrinkle reduction, skin resurfacing, body/facial contouring, chronic pain and more.
With a focus on physician needs and patient outcomes, Lutronic dedicates time and funding toward the development of devices that offer features and improvements not found in today's market. Devoting more than 15% of revenues to R&D, Lutronic holds more than 130 current and pending patents worldwide. With more than 250 employees worldwide, Lutronic has offices in the US, Korea, China, Japan, and Europe, a worldwide network of distributors, and is ever expanding.
For more information about Lutronic and its products, please visit: http://www.lutronic.com