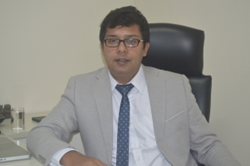 Old Ways cannot open New Doors
Lagos, Nigeria (PRWEB) October 18, 2014
Mr. Palash.C.Bagchi, who has been serving as an Executive Director and member of the board, will now head the technology business as its CEO.
Under the leadership of Palash Bagchi, technology business has witnessed rapid expansion in terms of its offerings portfolio, customer acquisitions, and geography spread across Asia, Africa and the Middle East. Its flagship product Paywings Payroll is now the top downloaded payroll software among all other Payroll Software in the SMB segment. Columbus, it's inventory and warehouse management solution is also going through a complete overhaul. With its new platform release in another 6 months, STPL vows that this too will become the global market leader. Africa's first mobile POS system, moPOS which was launched last month after 6 months of dedicated effort, will change the African payment landscape. The change is not just on the technology creation for a cash less economy in Africa, but also in the approach in which the go to market has been strategised.
STPL's IT services business has major clientele across Africa and especially Nigeria, where it has been able to acquire and deliver large ticket IT project from many customers. The year 2015, will see increased focus on taking the IT services offerings to the Middle East and new African countries. With fresh injection of funds from its Chairman and Investor, Mr. Srinivas Musunuri, STPL Technologies will market its products more aggressively, hire and retain best talents in the industry, and further strengthen it's already strong customer support system.