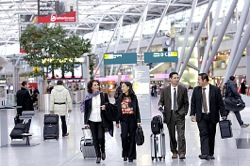 Excellent options for convenient and affordable legs that many flight itineraries from North America can benefit from.
Düsseldorf, Germany (PRWEB) October 16, 2014
For anyone traveling to Europe or across the world this winter season, DUS is a perfect starting and transfer point. Starting October 26, 2014, 50 airlines will serve about 140 destinations in Germany, Europe and beyond on the 2014/15 winter schedule – excellent options for convenient and affordable legs that many flight itineraries from North America can benefit from, in addition to established non-stop flights to DUS from eight US and Canadian cities (Atlanta, Chicago, Ft. Myers, Los Angeles, Miami, New York, Newark, Toronto).
DUS winter schedule highlights:
Direct flights from DUS to Tokyo will continue all winter, served by All Nippon Airways.
Air Berlin offers additional options for travel to the Caribbean, with six weekly flights to the Dominican Republic, and two weekly flights to the Cuban resort town Varadero. Even more Caribbean beach fun is available with Air Berlin flights from DUS to La Romana, Curacao, and Barbados. Another new flight to a warm destination from DUS is offered by Tuifly with one weekly flight to Sal via Boa Vista – the island in Cape Verde on West Africa's Coast.
On domestic and inter-European flights, Air Berlin increases frequency to Catania (4 per week), Dresden (23 per week) and Stuttgart (30 per week). Brand new are 2 weekly flights to Marrakech, Morocco, and one weekly flight to Fagernes, Norway.
Lufthansa will switch over its remaining short- and medium-haul routes to Germanwings during the winter season. Once the last flight – to Zurich in early January – is taken over by Germanwings, the only flights by Lufthansa from DUS will be to Frankfurt and Munich and on the long-haul connections to Chicago and New York. By then, Germanwings' strong Europe network will have 50 destinations, e.g., a connection to Istanbul's Sabiha Gökçen (2 per week), and the continued connection to London Stansted (2 per week).
If your travel plans take you to Russia this winter, there are even more choices for getting there from the Rhine River. Aeroflot will increase its frequency to Moscow Sheremetyevo to four weekly flights, and will start serving St. Petersburg during the winter with daily flights.
Polish airline Eurolot will continue the route DUS-Warsaw, which was served by LOT Polish Airlines during the summer, with 13 weekly flights. Eurolot was founded in 1996 as an independent airline and is not a LOT subsidiary.
Please find current information, flight schedule and service guide with airport maps at http://www.dus.com, or call the airport hotline at +49-(0)211-50 000.
In League with New York, London, Paris and More
Adding to Düsseldorf's appeal, several US & Canadian cities (Atlanta, Chicago, Ft. Myers, Los Angeles, Miami, New York, Newark, Toronto) offer non-stop flights. Passengers who continue their journeys can choose from numerous convenient connections to Berlin, Munich, Frankfurt, Hamburg and many other German and European cities. Throughout the year, 60 airlines serve 180 destinations worldwide – among them 125 European destinations. Another major advantage of the airport is its layout. With all gates in one terminal building, Düsseldorf Airport is the "airport of short distances" – guaranteeing minimum connection times of 35 minutes.
The airport is at the center of the Rhine Ruhr area, a bustling network of 53 connected cities and 18 million residents within 40 miles. It is the EU's third largest market in volume and spending and equal to major metropolitan regions like New York, London and Paris. 500,000 companies are located in the area, including 5,000 offices of foreign corporations, the majority from the Netherlands, Japan and the USA. Many major international industry players, including Fujifilm Europe, Nokia Siemens, Novell, Ericsson, Deloitte & Touche, McKinsey, and Toshiba, are headquartered in Düsseldorf, which is a first-rate location for high-tech concerns. International presence and fast accessibility – guaranteed by DUS being one of Germany's major hubs – make the location highly attractive.
Düsseldorf and North Rhine-Westphalia, ranked 17 in GDP among the world's major industrial centers, are also home to some of the most significant exhibitions and trade shows in the world. Of the 50 annual events at Düsseldorf's Exhibition Center, 23 lead their industry worldwide, for example, printing technology ("drupa"), plastics and rubber ("K"), medicine ("MEDICA" and "REHACARE INTERNATIONAL"), leisure time ("boot") or packaging ("interpack"). For more information on Düsseldorf Airport, visit http://www.dus.com.
###
Düsseldorf Tourism & Marketing GmbH is the visitors and convention bureau of the city of Düsseldorf. Its services include tourism and city marketing, conference and meeting marketing, hotel reservation services, fairs and convention services, city event ticket sales and advance ticket reservations. For more information, visit http://www.visitduesseldorf.de.