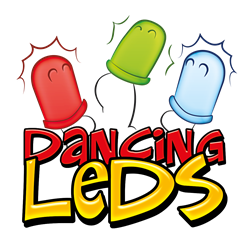 we're focused on making the Dancing LEDs controller and app easy for anyone use
Austin, TX (PRWEB) October 17, 2014
Dancing LEDs, L.L.C., a startup company in Austin, has launched a campaign on Kickstarter to make animated holiday lights easy to set up and fun to play with. Dancing LEDs promises to lower the technical barrier to animated lighting by making light control as simple as playing a song or video on a smart phone. The company aims to extend animated lighting beyond Christmas by simplifying complex challenges like music synchronization and mapping video to lights using a smart phone app.
Dancing LEDs consists of a Bluetooth® enabled wireless controller, one or more 50-light strings and a rain-tight power supply for each light string. Every light is programmable with independent control over both color and brightness, giving users complete control over their holiday lights instead of simply turning lights on and off. Increased sophistication often comes with increased complexity, but according to founder Jarrod Eliason, "we're focused on making the Dancing LEDs controller and app easy for anyone use."
The light controller is based on open-source hardware and will itself be open-source. The initial app will provide access to a library of free and low cost light sequences, and the company plans to add real-time control features using the smart phone camera and microphone in future app releases. The Kickstarter campaign runs through November 13th, and the company encourages early backers with Early Bird pricing.
About Dancing LEDs:
Dancing LEDs was founded in 2014 to develop easy-to-use animated holiday lighting. Founders Jarrod Eliason and Brady Hustad have over 18 years of experience in product and software development.
For more information contact: Jarrod Eliason, jarrod(at)dancingleds(dot)com, 719-210-1097
https://www.kickstarter.com/projects/362879869/dancing-leds
http://www.dancingleds.com
Bonus video: "We wish you a maker Christmas (and a hacker New Year)"
https://www.youtube.com/watch?v=mcYUJPnk8to