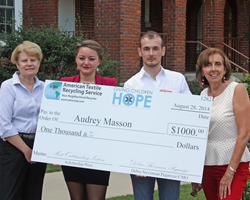 "I was really proud to be part of the EcoArmy during the summer. Doing the various assignments perfectly fulfilled the theory that I learned in school," says Most Outstanding Intern Audrey Masson
(PRWEB) October 16, 2014
American Textile Recycling Service (ATRS) debuted its Marketing Internship program this past summer and selected 4 high achieving students from over 25 applicants to participate in its "EcoArmy" pilot program. This month, the winner of the Most Outstanding Intern Award was surprised on campus by the delivery of an oversized "big check" scholarship award in the amount of $1,000.
Audrey Emilie Alice Masson from Winthrop University in Rock Hill, South Carolina consistently won challenges and assignments throughout the 10-week summer internship, which she completed in the Southern California offices of ATRS. As a foreign student, Audrey relocated herself to housing near the recycling center facility and bicycled to work instead of accepting the company's fuel allowance.
Each member of the EcoArmy gained valuable real world experience working directly with an active marketing department. The interns developed communication skills across all channels including social media, e-marketing, print media and video. They learned about planning, promoting, staffing and tracking performance metrics for marketing campaigns in a true business setting. As a collaborative project, the EcoArmy interns conducted the company's first demographic field research and developed a campaign to survey individuals that use ATRS Clothing & Shoe Recyclers in their communities.
The interns presented their assignments in collaborative video conferences to members of the ATRS Marketing Department and were awarded cash prizes that escalated in value as the 10-week program progressed.
"I was really proud to be part of the EcoArmy during the summer. Doing the various assignments perfectly fulfilled the theory I learned in school," explained Audrey Masson about her time working with ATRS Recycling. "We were part of every aspect of marketing - from ATRS events, to social media posts that were actually published, to in-field research projects that helped me understand the business of marketing."
Administrators from Winthrop University presented Audrey Masson with her Fall Semester Scholarship "big check" and acknowledged her innovative thought, fresh ideas and creative initiative coupled with careful execution. This fall semester she is in her senior year of her Integrated Marketing and Communications and plans to start her graduate degree next year.
American Textile Recycling Service would like to thank the entire EcoArmy for their service during the 2014 Summer Internship program. Students are encouraged to apply for Summer 2015 Internship opportunities with ATRS at webpage.
To learn more about easy, convenient ATRS Clothing & Shoe Recycling please visit atrscorp.com. To find a drop off location near you, call the 24-Hr Hotline 866-900-9308.
American Textile Recycling Service (ATRS) is the nation's fastest growing textile recycler. Its socially responsible business model provides free textile recycling solutions for the public, job stimulation worldwide and much-needed funding for worthy local charities. Easy, convenient ATRS Recyclers are available throughout Nashville TN, Texas, Florida, Michigan, Tennessee, Atlanta, Oklahoma, Arizona, Colorado, and Southern California. ATRS is committed to keeping textile waste from local landfills and promoting a greener tomorrow. For press inquires contact pr (at) atrsonline (dot)com.