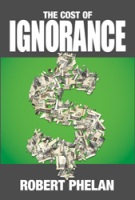 The time has come for middle market companies to evaluate the impact of Performance Based Insurance on their bottom line.
Avon, CT (PRWEB) October 21, 2014
Join author and industry subject matter expert Bob Phelan as he discusses why middle market businesses are moving to captives, large deductible and other Performance Based Insurance plans. Unlike traditional insurance where the carrier retains approximately 35% of the premium, Performance Based Insurance plans such as captives and large deductible plans, return unused premiums to the participating companies. These types of plans can offer savings of 25% to 50% over traditional insurance plans, and offer companies greater control and visibility over their insurance programs.
Topics in this complimentary webinar include:

Who uses captives and large deductible plans
Why are businesses are moving to these types of plans
Risk reward scenario with captives and large deductibles
Typical performance metrics from these plans
Estimated savings by company profile using Performance Based Insurance plans
Date/Time: Thu, Oct 30, 2014 12:00 PM - 12:30 PM ED
Who should attend: Owners and executives facing total work comp, general liability, and auto premiums of $150K or more per year. After October 30th, this webinar will be available on demand at: http://www.litchfieldins.com/resources/events-webinars/
About The Author
Robert (Bob) Phelan is a 30-year veteran of the insurance industry who has led his firm, The Litchfield Insurance Group, to national prominence. He's the author of two books: The Cost of Ignorance: What You Don't Know About Performance Based Insurance Can Save Your Company Millions, and Broke: The Broken Contractor's Insurance System and How to Fix It. A thought leader in his industry, Bob was recognized as one of "The 25 Most Innovative Agents in America" by The National Alliance Research Academy, and as a "Power Broker" in Construction and Workers' Compensation by Risk & Insurance Magazine. He speaks across the U.S. and Canada and is an Editorial Advisory Board member for the largest trade journal in the insurance brokerage industry.