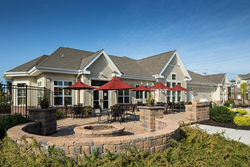 The Overlook is a beautiful community with an excellent location for commuters and is close to businesses, hospitals, and shopping. What really makes the difference for me is that the staff goes above and beyond and genuinely cares about the residents
Camp Hill, PA (PRWEB) October 17, 2014
Overlook Apartments in Camp Hill, Pennsylvania nearly swept the luxury category of the Pennsylvania Apartment Association "Best of Living Awards". Overlook won 6 BOLA awards:

1st Place in Overall Community Excellence
1st Place in Overall Maintenance Excellence
1st Place for Property Manager of the Year
2nd Place in Leasing & Marketing
2nd Place for Leasing Consultant of the Year
2nd Place for Rookie of the Year
"We are delighted that Overlook was recognized with so many 'Best of Living Awards'," said Josh E. Fidler, Co-Chairman of developer Chesapeake Realty Partners. "A beautiful community and hard-working staff create a wonderful environment for our residents."
Overlook is a brand new apartment community located on the West Shore of the Susquehanna River, just minutes from downtown Harrisburg. The property consists of 288 apartment homes in 6 buildings. Each 4-story, manor-style building features a stylish lobby with country-club furnishings, elevators and original artwork.
The apartment homes offer spacious one and two bedroom floor plans with nine-foot ceilings and are stylishly finished with rich wood cabinetry, granite counters, stainless steel appliances, and a full-size washer/dryer in every home. In addition, the ample windows and available Juliet balconies provide residents a choice of sweeping city, mountain, or woodland views.
The community Clubhouse features a fully-equipped fitness center and yoga studio, a spacious and comfortable clubroom, as well as a library with business center – all fully Wi-Fi enabled. The living experience is further enhanced with a saltwater swimming pool, fire pit, playground and plenty of free parking.
Each year, the Pennsylvania Apartment Association honors apartment communities throughout Pennsylvania during their "Best of Living Awards" (BOLA). The awards recognize excellence in, curb appeal, leasing and marketing, maintenance programs, customer service, community service involvement and employee training and commitment to education. Properties and individuals are judged by industry experts from neighboring apartment associations.
Residents of Overlook are proud of the property and the staff for being recognized. One resident said, "The Overlook is a beautiful brand new community with an excellent location for commuters to both East and West Shore and is close to major businesses, hospitals, and shopping. What really makes the difference for me is that the staff goes above and beyond and genuinely cares about the residents."
The property's management company, WPM Real Estate Management, joins the residents of the property in their pride for the community and the staff. WPM Real Estate Management's President, Leonard Frenkil, said, "Congratulations to Chesapeake Realty Partners and the Overlook team. It is an honor to manage such a well-developed community and we couldn't be prouder of our team at Overlook. These awards are a direct reflection of their dedication and commitment to excellence."
The Overlook's leasing activity continues to be brisk and interest in this unique community remains high. If the previous leasing pace is any indication of future popularity, The Overlook is likely to remain one of Camp Hill and the Harrisburg area's hottest new addresses. For more information about the award-winning community, The Overlook, visit the property's website at http://www.OverlookHarrisburg.com or contact the leasing office at 717.737.3100.
About Chesapeake Realty Partners:
Headquartered in Owings Mills, Maryland, Chesapeake Realty Partners builds on more than 65-years of success in the Mid-Atlantic real estate market. CRP is actively engaged in all aspects of real estate development – land acquisition; land planning and land development; residential lot sales; construction and operation of residential rental communities; and construction and operation of commercial properties. For additional information about CRP and its projects, visit their website http://www.ChesapeakeRealtyPartners.com.
About WPM Real Estate Management:
WPM Real Estate Management is an Accredited Management Organization® (AMO®) that provides property management for over 18,000 homes and 35,000 people in the Baltimore/Washington Metropolitan area. The company's primary focus is residential: multifamily, condominium, senior housing, student housing, and homeowner association communities. WPM has topped the list of leading residential managers in Greater Baltimore, ranked by local units managed, as compiled by The Baltimore Business Journal for 3 straight years. In addition, it has an extensive managed portfolio of commercial, industrial, and retail properties. WPM has been recognized as one of Baltimore's Top Workplaces by The Baltimore Sun, ranking among the top 5 large employers in both 2012 and 2013. The company employs nearly 500 employees, with 80 at the corporate headquarters in Owings Mills, Maryland and more than 400 at various on-site locations. For more information about WPM Real Estate Management, visit the WPM website at http://www.wpmllc.com.
About the Pennsylvania Apartment Association – Central:
The Pennsylvania Apartment Association - Central (formerly AACP) is a non-profit trade organization for the apartment and rental housing industry. They serve approximately 100 property management companies, owners, developers and property managers that manage or own nearly 60,000 apartment homes (450+ apartment communities). For more information about the Pennsylvania Apartment Association-Central, visit their website at http://paa-central.com/