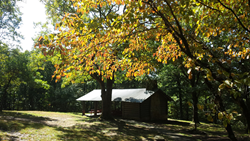 Georgia State Parks has an online Leaf Watch Travel Planner with top parks for views
Atlanta, Georgia (PRWEB) October 17, 2014
Now that fall color is beginning to show up on the trees, it's time to plan a leaf-peeping road trip. According to the Georgia Department of Natural Resources, peak color in Georgia is usually toward the end of October or early November. The key for a vibrant autumn is warm sunny days coupled with cool – not freezing – nights.
To help leaf peepers find the best scenery, Georgia's State Parks offer an online "Leaf Watch" travel planner, found at http://www.GeorgiaStateParks.org/leafwatch. Regular updates keep travelers posted on how fall color is progressing across Georgia's Blue Ridge. The website is filled with top trails and overlooks, mountain cabins and campsites, fall events, and safe hiking tips. Shutterbugs are encouraged to post their favorite shots to the Georgia State Parks Facebook page and Instagram.
Georgia's State Parks offer a variety of accommodations where leaf peepers can stay right in the heart of autumn scenery. Park guests can choose from fully equipped cabins, modern campsites and even yurts – a "glamping" trend that is like a tent-cabin. Georgia State Parks' most sought-after accommodations are often reserved 13 months in advance, and many campgrounds fill up on weekends. Guests are encouraged to make plans as early as possible or visit during weekdays. Reservations can be made by calling 1-800-864-7275 or at http://GeorgiaStateParks.org/reservations. For quieter getaways, visitors may want to explore parks further south, which can offer pretty autumn color as well.
Top Georgia State Parks for Fall Color:
AMICALOLA FALLS STATE PARK – Dawsonville
Just an hour north of Atlanta you'll find the Southeast's tallest cascading waterfall. The falls can be enjoyed from both easy and difficult trails. A short, flat path leads to a boardwalk offering the most spectacular views. There's also an easy-to-reach overlook at the top. For a tougher challenge, start at the bottom of the falls and hike up the steep staircase.
BLACK ROCK MOUNTAIN STATE PARK – Clayton
At an altitude of 3,640 feet, Black Rock Mountain is Georgia's highest state park. Roadside overlooks and the summit Visitor Center offer sweeping views. The 2.2-mile Tennessee Rock Trail is a good choice for a short, moderate hike. For an all-day challenge, take the 7.2-mile James E. Edmonds Backcountry Trail. If driving Hwy. 441 north to the park, stop by Tallulah Gorge State Park and quirky Goats on the Roof.
CLOUDLAND CANYON STATE PARK – Near Chattanooga
One of Georgia's most beautiful parks offers easy-to-reach rim overlooks and challenging hiking trails. A favorite hike goes down a long, steep staircase to the bottom of the canyon and two waterfalls. The 5-mile West Rim Loop is moderately difficult and offers great views of the canyon. "Glamping" yurts are located off this trail.
DON CARTER STATE PARK – Lake Lanier
Georgia's newest state park opened in 2013 on Lake Lanier, protecting a beautiful hardwood forest and miles of shoreline. A short, paved (and quite hilly) trail is open to bikes and foot traffic. Another trail is open to hikers only.
F. D. ROOSEVELT STATE PARK – Pine Mountain
Yes, there are hardwood forests and rolling mountains south of Atlanta. The 6.7-mile Wolf Den Loop is a favorite section of the longer Pine Mountain Trail. Drive to Dowdell's Knob to see a life-size bronze sculpture of President F.D. Roosevelt and great views of the forested valley. Ga. Hwy. 190 is a pretty driving route.
FORT MOUNTAIN STATE PARK – Chatsworth
This park is best known for a mysterious rock wall along the mountain top, plus a variety of trails. For the easiest walk, take the 1.2-mile loop around the park's pretty, green lake. For a challenging, all-day hike, choose the 8-mile Gahuti Trail. Mountain bikers have more than 14 miles to explore. Hwy. 52 has beautiful mountain scenery and overlooks.
HARD LABOR CREEK STATE PARK – Rutledge
Enjoy autumn color via a kayak tour of the lake; sign up for a ranger-led paddle or rent a canoe to explore on your own. Equestrian-friendly, the park offers horse camps, stables and trails. Mountain bikers can explore 10 miles of trails. This park is easily reached from I-20 exit 105.
MOCCASIN CREEK STATE PARK – Lake Burton
Georgia's smallest state park sits on the shore of a gorgeous deep-green lake. Choose from the 2-mile Hemlock Falls Trail or 1-mile Non-Game Trail with a wildlife observation tower. Hwy. 197 is a particularly pretty road, passing Mark of the Potter and other popular attractions.
RED TOP MOUNTAIN STATE PARK – Lake Allatoona
Just 40 minutes north of Atlanta you'll find a variety of trails with nice fall color. The easy, flat 4-mile Iron Hill Loop is open to bikes and foot traffic, offering great views of the lake and forest. Another good choice for lake views is the 5.5-mile Homestead Trail. Families with young children will like the paved walking path behind the park office. Be sure to explore the log cabin and blacksmith shed.
TALLULAH GORGE STATE PARK – Near Clayton
Tallulah is one of the most spectacular canyons in the Southeast. Hike along the rim to several overlooks with waterfall views. During November, expert kayakers enjoy the bi-annual "whitewater releases." The park's film includes heart-racing footage of kayakers and news clips from Wallenda's famous tightrope walk across the gorge.
VOGEL STATE PARK – Blairsville
The 4-mile Bear Hair Gap Trail makes a nice day trip for experienced hikers, offering great mountain color and a birds-eye view of the park's lake. For an easier walk, follow the Lake Loop to a small waterfall. The twisting roads around Vogel, particularly Wolf Pen Gap Road, offer some of north Georgia's prettiest fall scenery.
To find these and other state parks, go to http://gastateparks.org and click on the Locations tab.