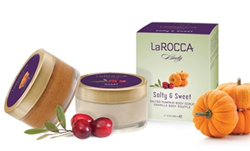 Stimulate the senses and soothe the body.
Los Angeles, CA (PRWEB) October 27, 2014
For those of us who love a subtle warm spice, fresh and up lifting scents, then indulge the senses in this delicious body duo.
LaRocca's Salted Pumpkin Body Scrub is an autumn icon and is packed with several nutrients that help tackle premature aging by gently exfoliating and detoxifying the skin.
Followed with LaRocca's Cranilla Body Soufflé, an ultra-rich, comforting body cream that calms the senses, soothes the body and deeply moisturizes for a healthier smoother skin. Perfect for the dry winter months.