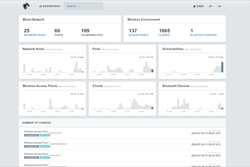 We were very impressed with how Pwn Pulse compared to the security of most other SaaS platforms.
Boston, Massachusetts (PRWEB) October 21, 2014
Enterprises across verticals have lauded Pwnie Express's new Pwn Pulse software as a service (SaaS) solution, calling it "groundbreaking" for its ability to easily provide visibility across their remote locations. The enterprises were taking part in the Beta program for Pwn Pulse, which became publicly available today.
"Pwn Pulse allows us to have true policies in regards to our networks and computers and a true way to test them," said Eric Gilbert, Manager of IT Operations for Black, Mann & Gramm, L.L.P, who took part in the Beta program. "It gives us the ability to not only have the policies on hardening our hardware but also a way to verify that it's where it's supposed to be."
Gilbert touted the system's ease of use and management console, stating that you don't have to be a "security guru" to fully leverage the Pwn Pulse.
"For Amarillo National Bank security of our customers' information is paramount. We already know the power of Pwnie's sensors that currently provide us with unprecedented wired and wireless asset discovery at our remote sites," said Bill Davis, Data Security Officer at Amarillo National Bank. "We are excited to be taking part in the Pwn Pulse Beta program because it solves the pressing problem of continuous and comprehensive assessment of remote locations."
Pwnie Express is the only company to assess wired and wireless network security in remote locations on demand. Pwn Pulse enterprise-class offering uses Pwnie Express's easy-to-deploy sensors combined with central management to provide highly scalable continuous intelligence across remote locations.
An end-to-end security assessment solution designed specifically for hard-to-reach distributed remote sites, Pwn Pulse delivers real-time wired and wireless asset discovery, continuous vulnerability scanning, pentesting, risk trending and alerting.
The Pwn Pulse solution also scored top marks in a comprehensive security audit performed by leading security-consulting firm TrustedSec, LLC.
"We were very impressed with how Pwn Pulse compared to the security of most other SaaS platforms," said Dave Kennedy, President and CEO of TrustedSec. "Pwnie Express is clearly paving the way to a new baseline security profile for SaaS."
Known for its drop-box penetration testing solutions, the new SaaS solution completes the entire enterprise security assessment lifecycle. The solution delivers a robust centralized management console that:
o Allows for out-of-the-box deployment of sensors
o Aggregates and correlates sensor data
o Provides trending and analysis of data with the ability to drill down to sensor asset level
Pwn Pulse also easily and seamlessly integrates with existing security information and event management (SIEM) products.
Product benefits:
o Provides a cost-effective lightweight, non-intrusive and easy-to-deploy solution for remote locations
o Delivers the most comprehensive asset discovery to remote sites
o Extends vulnerability management to remote sites
o Enables subsequent on-demand penetration testing to remote sites
o Allows for easy anywhere multi-site deployment
o Increases frequency and scope of remote site assessment
o Expands awareness of wired, wireless, BYOD and rogue devices across all sites
o Addresses PCI DSS and HIPAA compliance requirements at remote sites
o Reduces travel and operational overhead required to do security testing
"Securing wired and wireless connections at remote locations has never been more critical with the proliferation of access points exponentially expanding the enterprise attack surface," said Dave Porcello, CTO and founder of Pwnie Express. "Attackers seek the easiest point of entry, and today, with the widespread use of wireless devices, from printers to BYOD, and the lack of visibility into these locations, it has never been easier."
Pwn Pulse provides consolidated asset discovery, vulnerability scanning, and pentesting in a single unified solution to deliver actionable risk information showing organizations where they are most vulnerable. This allows organizations to focus on high probability threats and threat vectors.
It also helps organizations meet regulatory standards including the Payment Card Industry Data Security Standard (PCI DSS) that require penetration testing to be in compliance.
Pwn Pulse's integrated intelligence delivers continuous in-depth analysis to accurately identify attack paths, allowing organizations to extend their security from the headquarters across their entire organization.
Availability
Pwn Pulse is generally available. For more information please contact:
About Pwnie Express
Pwnie Express provides an entire security assessment lifecycle solution leveraging its proven and innovative sensors that assess network security risks in remote and hard to reach locations. A SaaS solution, Pwnie allows for wired & wireless asset discovery, vulnerability scanning and on-demand penetration testing in remote and hard to reach locations. Thousands of enterprises and government organizations worldwide have been relying on Pwnie Express's products to conduct drop-box penetration testing and provide unprecedented insight into their distributed network infrastructure. Pwnie Express's SaaS solution based on its smart devices all organizations to see all the things while leveraging open source tools and platforms. The award-winning products are backed by the expertise of Pwnie Express Labs, the company's security research arm. The company is headquartered in Boston, Massachusetts.