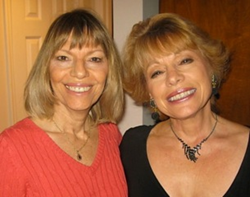 With intention and practice, we can learn healthier ways of expressing anger, frustration and other difficult feelings, which will make for more peaceful and rewarding life experiences.
West Palm Beach,FL (PRWEB) October 21, 2014
What better time to introduce an expanded program on anger management skills than October, which is National Domestic Violence Awareness Month? With the NFL making headlines regarding domestic violence issues, the new 12-hour online Anger Management Class for Co-Parents is a timely reminder that help can be just a click away.
Relationship Mentor Team Rosalind Sedacca, CCT and Amy Sherman, LMHC collaborated on the original online program in an 8-hour format two years ago. Court accepted in numerous counties throughout the United States, the classes are also available on a voluntary basis for high-conflict families coping with separation or divorce. Demand in several states led to the development of the newly expanded 12-hour program, with greater emphasis on domestic violence issues and resolution.
The philosophy behind the new course is simple. Home should be a safe haven -- a secure, welcoming environment, free from fear, repercussions and consequences. A healthy marriage is an equal partnership with neither spouse more powerful, intimidating or threatening than the other. No one should feel less significant or unworthy of respect. This is equally important after a divorce, regardless of the circumstances, especially when children are involved.
Amy Sherman is a licensed mental health counselor. She has over twenty years' experience working with adolescent substance abusers as well as distressed families and abused men, women and children. She is the co-author, with Rosalind Sedacca, of 99 Things Women Wish They Knew Before Dating After 40, 50 & Yes, 60! as well as the e-book, Distress-Free Aging: A Boomer's Guide to Creating a Fulfilled and Purposeful Life. Sherman is a seminar/workshop leader, group facilitator and Life Coach. She can be reached at Your Baby Boomers Network or amybethsherman(at)gmail(dot)com.
Rosalind Sedacca, Certified Corporate Trainer, is recognized as The Voice of Child-Centered Divorce. She is founder of the Child-Centered Divorce Network, which provides valuable resources for parents who are facing, moving through or transitioning after a divorce. She is also a Divorce and Parenting Coach and author of How Do I Tell the Kids about the Divorce? A Create-a-Storybook Guide to Preparing Your Children – with Love! Sedacca is co-host of The Divorce View Talk Show where she interviews divorce and parenting experts weekly. Archives of the show can be found on YouTube or at http://www.DivorceView.com. She is a regular blogger for The Huffington Post as well as numerous other divorce and parenting blogs and websites. She can be contacted at http://www.ChildCenteredDivorce.com or rosalind(at)childcentereddivorce(dot)com.
"While aggression has its place when defending our nation, thwarting injustices and during football games, there is no place for aggression within a marriage or intimate relationships," says Sherman. "When you hear that eighty-five NFL players have been arrested for domestic-related violence and only eleven percent have received suspensions from the NFL, you have to wonder where the industry's mindset is -- and what their priorities are."
Sedacca and Sherman emphasize that we must all recognize signs of anger in our behavior and identify "red flag" warnings in advance before we explode out of control. With intention and practice, we can learn healthier ways of expressing anger, frustration and other difficult feelings, which will make for more peaceful and rewarding life experiences.
"Issues around anger and managing conflict need to be addressed," says Sedacca. "These online courses provide the tools, skills and strategies we can use to change our state of mind, perceive circumstances differently and catch ourselves before our anger takes over so we can protect those we love and others we deal with regularly."
She believes we can harness our anger in more productive directions and create more inner peace in our lives. Learning these skills will not only make our life more satisfying, it will improve our relationships with everyone – especially our children, spouse or co-parent following a divorce.
Both coaches stress that managing high conflict anger issues will transform life for the better – and give us the tools to respond more effectively to challenging situations, especially in our personal relationships. We can still get our needs met, but without the struggle, turmoil and negative consequences.
Both the 8-hour and 12-hour online classes include practical advice, strategies, questions, videos, quizzes and more, all designed to help co-parents and marital partners in conflict create better outcomes for themselves and their children. When the classes are court-mandated, a Certificate of Completion is sent to the courts. To learn more and get information about pricing, click on Anger Management.