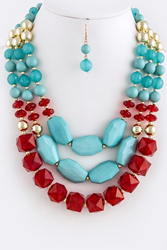 Accessories with Style
Charlotte, NC (PRWEB) October 22, 2014
Accessories with Style
Fashion Jewelry and Handbags need not be limited to expensive Designer Brands. Trends may slip on and off the style radar but the most essential pieces should always be present in your wardrobe. This is where The Perfect Jewelry makes its mark as one of the most reliable companies in the designer inspired fashion jewelry and handbag world.
Since it's establishment in 2013, The Perfect Jewelry has styled many clients for every occasion, such as weddings and special events.
The Perfect Jewelry selection features designer inspired stylish fashion forward and trendy necklace sets, bracelets, earrings, rings, necklaces, leather satchels, tote bags, hobo, shoppers, cross body bags etc.
We are an ecommerce Company. We sell top Quality Merchandise with affordability.
For more information on The Perfect Jewelry Please visit http://www.theperfectjewelry.com, call 980 226 0959, or email sales(at)theperfectjewelry(dot)com
About The Perfect Jewelry
Founded by Selma Brown, "While Working for many years in the High End Retail Business, I would always meet customers who would say. 'Would you mind calling me when this item goes on sale?' or they would ask, 'Do you have this shoe or handbag with a lower price point?' They wanted the exact look with a great price point. So that's when my idea was born.
I thought if I could provide customers with the exact look as the big Designer Runway looks without the hefty price tag and offer a fraction of the cost of a Designer item, then I would start up my own company. So I began to search for vendors that would work with me to get the same Designer Runway looks with a reasonable price and thus the Perfect Jewelry was was established."