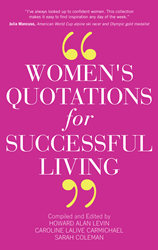 "I've always looked up to confident women. The Collection makes it easy to find inspiration any day of the week." Julia Mancuso-American World Cup alpine ski racer and Olympic gold medalist
New York, NY (PRWEB) October 21, 2014
New York NY -SelectBooks Inc. is pleased to announce the upcoming publication of a new book Women's Quotations for Successful Living (November 2014; $14.95; ISBN 978-1-59079-268-1), a compilation of motivational quotations brought together to inspire women to achieve their dreams and goals. The three co-editors: Hal Levin, Caroline Lalive Carmichael, and Sarah Coleman have worked together to assemble more than 1,200 of their favorite quotations from over 600 amazing women from Eleanor Roosevelt to Beyoncé, from Jane Austen to Oprah Winfrey.
As friends, the editors came together and founded a company to create opportunities for women to enhance their skills and create a more extraordinary life. Thus, Inspired Life Network (ILN) was born in the ski town of Steamboat Springs in the heart of the Colorado Rockies. Offering a unique platform for women to learn and grow together, ILN holds workshops, seminars, and fitness training to bring together body, mind, and spirit. From inequalities in the workplace to harshly detrimental problems of subconscious denigration and overt violent misogyny, it is undeniable that women of the world are in great need of support and community. Having a strong and supportive network provides a better opportunity to achieve goals, and the founders see ILN as a great way to make a change and give back. Creating various ways to help replace negativity with positivity, the group hopes to guide women to a place of empowerment.
From the minds and lips of a diverse group of great thinkers and talents, Women's Quotations for Successful Living will resonate with all women to help lift them up and inspire greatness. Combining heartfelt motivational and revolutionary words with humorous and entertaining quips, the book gives a gentle balance to the reader and provides a multi-dimensional source of inspiration. The co-editors felt that their powerful combination of personal success and a crafted vision for progress could offer a lot to the community, and with each having felt greatly influenced by specific quotations, the book was a natural choice as part of ILN. With Women's Quotations set to launch, the editors have started a campaign on Indiegogo.com to help spread their positive messages. Until November 9th, readers can get a personalized autographed copy and support Inspired Life Network. For more information visit: http://igg.me/at/womensquotations
The exceptional backgrounds of the three founders have helped to create, develop, and drive their vision for their company and for those around them. As a two-time Olympic skier, Caroline understands the essential role that dedication and motivation play in success and reaching goals. She has since worked as a model and sports commentator and hosts seminars to use her experience as encouragement for others. Like Caroline, Sarah has found success and fulfillment as an athlete through ideals in focused healthy living. Sarah is a successful personal trainer with multiple certifications from the American Council of Exercise and CrossFit. Hal Levin brings his strength in a healthy mind and spirit to the mix through his work as a spiritual healer and entrepreneur. As a traveler he has seen the unique abilities of women around the world and hopes to ignite more passion and equality through promotion of female leaders.
Using diverse mediums, they hope to create a community of positive reinforcement for all women. Women's Quotations for Successful Living ads a unique and powerful element, strengthening the spiritual branch of ILN. On Friday November 7th from 4-6pm Off the Beaten Path booksellers of Steamboat Springs, CO. will host a book signing where readers can meet the authors: Olympian Caroline Lalive Carmichael, Sarah Coleman and Hal Levin.
###