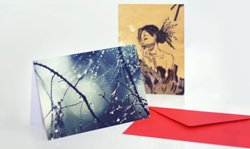 "As technology makes it easier to stay in touch with family and friends, it also becomes increasingly difficult to deliver messages that have a lasting impact"
(PRWEB) October 22, 2014
Mango Salute Fine Art Cards empower people to communicate with authenticity.
Printed on thick premium card stock, sourced from sustainable forests (FSC) and delivered in distinctive red envelopes, Fine Art Cards establish an emotional connection that no email, instant message, blog post or tweet can match.
Unlike fleeting digital messages, Fine Art Cards are keepsakes and physical reminders concerning important people and moments in our lives.
As the attached video from Mango Salute demonstrates, we often forget or take for granted the most important things in our lives – the very people who make life worth living.
Fine Art Cards provide a novel and meaningful way to connect with the people we care about.
Mango Salute makes the Art of Greeting Simple. There are 4 simple steps to creating your physically delivered Fine Art Card:
Step One: ART– Select a featured artwork from our inspired community of painters, illustrators, designers and photographers from more than 30 countries.
Step Two: PERSONALISATION – Tell your own story by customizing your Fine Art Card. Add your own images and message, or select one of many expressions from our message
bank.
Step Three: VIDEO – Say what you want to say in a video, or share a song or record a video message, to be encoded on the back of your Fine Art Card.
Step Four: SEND – Mango Salute prints and delivers your Fine Art Card to destinations worldwide.
A Physical Keepsake in a World Overrun by Too Many Empty Words:
"As technology makes it easier to stay in touch with family and friends, it also becomes increasingly difficult to deliver messages that have a lasting impact" says Ariel Resnik, Founder of Mango Salute. "The aim of Mango Salute is to combine the freedom of technology with the quality of tangible mementos."
About Mango Salute:
Mango Salute is an Australian startup built on the importance of nurturing relationships, furthered by the premise that "a thing of beauty is a joy forever." We represent independent artists – including painters, photographers, designers or illustrators – from over 30 countries.
As such, each Fine Art Card is a work of art in its own right. With easy-to-use editing tools, a message bank and the ability to include a song or a digital message with the printed card, Mango Salute offers a new and authentic means of communication. For more information, please visit https://mangosalute.com/