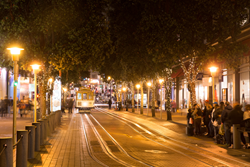 San Francisco, CA (PRWEB) October 23, 2014
In San Francisco, the holiday season could easily be called "the most wonderful time of the year," as the song goes. The city's neighborhoods are aglow with decorations and abuzz with activities and events – some traditional and some far from it.
The holidays are an especially inviting time for visitors to San Francisco because the hotels offer the best rates of the year and there are plenty of rooms available. Hotel deals can be found on the official website of the San Francisco Travel Association at http://www.sanfrancisco.travel.
Like a traditional gingerbread cookie with a snap of chili powder, San Francisco has several "not to be missed" events that are new and special for 2014, some with a holiday flavor and others simply remarkable on their own:
@Large: Ai Weiwei on Alcatraz
Through Apr. 26, 2015 on Alcatraz
The Chinese artist Ai Weiwei is internationally renowned both as a maker of potent and provocative art and as a passionate advocate for human rights and freedom of expression. His art and ideas find a compelling new context in this exhibition of works created specifically for Alcatraz – a 19th-century military fortress, a notorious federal penitentiary, a site of Native American heritage and protest, and now one of America's most visited national parks.
http://www.alcatrazcruises.com/website/ai-weiwei.aspx
Keith Haring: the Political Line
Nov. 8, 2014-Feb. 16, 2015 at the de Young Museum in Golden Gate Park
This is the first American exhibition to assess the political dimensions and scope of Keith Haring's artistic concerns. Working across a variety of media, including subway drawings, paintings and sculptures, Haring (1958-1990) devoted himself to messages of social justice and change. Haring's work has long been a part of the city's visual culture. Haring created works for diverse venues in San Francisco during his lifetime, including murals for DV8, an underground club once located in the South of Market neighborhood and a huge, multipanel painting for the South of Market Childcare Center. Haring's outdoor sculpture "Untitled (Three Dancing Figures)" (1989), will be moving from its current location at the Moscone Center to the de Young for the durations of the exhibition. His triptych altarpiece "The Life of Christ" (1990) is installed in the AIDS Chapel at Grace Cathedral. For more information, visit https://deyoung.famsf.org/press-room/keith-haring-political-line.
San Francisco Opera presents Cinderella
Nov. 9-26, 2014 at War Memorial Opera House
Thanks to her open heart and determination, Cinderella triumphs over her mean-spirited relatives in Rossini's sparkling version of the story. Karine Deshayes, lauded for her "emotional depth and vibrant, beautiful sound" (The New York Times), makes her San Francisco Opera debut in the beloved fairy tale about a gentle but courageous servant girl who catches the eye of a handsome prince. In San Francisco Opera's charming and heartwarming production, esteemed Spanish conductor Jesús López-Cobos leads a superb cast. The elegant and exciting René Barbera debuts as the prince and Fabio Capitanucci brings his "robust, warm voice and impressive Italianate lyricism" (The New York Times) to the role of the prince's valet Dandini; Spanish baritone Carlos Chausson is Cinderella's evil stepfather.
http://sfopera.com/Season-Tickets/2014-15-Season/Cinderella.aspx
Cirque du Soleil's Kurios – Cabinet of Curiosities
Nov. 14, 2014-Jan. 18, 2015 under the Big Top at AT&T Park
Making its U.S. premiere, Kurios – Cabinet of Curiosities is a tale in which time comes to a complete stop, transporting the audience inside a fantasy world where everything is possible. In this realm set in the latter half of the nineteenth century, reality is quite relative indeed as our perception of it is utterly transformed. The name of the show refers to the humble and strange characters that inhabit the Seeker's Cabinet of Curiosities.
http://www.cirquedusoleil.com/en/home/shows.aspx
San Francisco Opera presents La Boheme
Nov. 14-Dec. 7, 2014 at War Memorial Opera House
When an aspiring poet falls in love with a fragile seamstress, their intense passion is only matched by their youthful idealism. Can their tender relationship survive the cruelties of life? John Caird, the director of two of the biggest stage hits of recent years, Les Misérables and Nicholas Nickleby, brings his unique touch to this new production of Puccini's beloved opera. Resident Conductor Giuseppe Finzi leads two superb casts. One is headed by the "warm, luminous tone and urgently communicative phrasing" (TheClassicalReview.com) of Greek soprano Alexia Voulgaridou in her Company debut, the "intensely expressive" Michael Fabiano (The New York Times) and Nadine Sierra, whose commanding artistry inspires "awe and delight" (San Francisco Chronicle). The other features Leah Crocetto, "a major operatic star" (San Francisco Chronicle), "stylish and brilliant" young tenor Giorgio Berrugi (Examiner.com) and the "passionately lyrical" Ellie Dehn (The New York Times).
http://sfopera.com/Season-Tickets/2014-15-Season/La-Boheme.aspx
50th Anniversary of John Coltrane's A Supreme Love
Dec. 5-9, 2014, at the Saint John Coltrane African Orthodox Church and various locations
The Saint John Coltrane African Orthodox Church is dedicated to spreading Coltrane Consciousness by introducing people to the power of love in the life and music of John Coltrane and his contribution to universal brotherhood and world peace. Plans for the celebration of the 50th anniversary of the album A Love Supreme, recorded on Dec. 9, 1964, include performances, classes, workshops, etc. in jazz clubs, theaters, churches and schools, and radio and Internet broadcasts.
http://www.coltranechurch.org
Kinky Boots
Dec. 2-28, 2014 at SHN Orpheum Theatre
Kinky Boots is the exhilarating Broadway musical that will lift your spirits to new high-heeled heights! Winner of six Tony Awards® including best musical, this inspirational story follows a struggling shoe factory owner who works to turn his business around with help from Lola, a fabulous entertainer in need of some sturdy stilettos. Together, this unlikely pair finds that they have more in common than they ever dreamed possible proving that when you change your mind about someone, you can change your whole world.
https://www.shnsf.com/online/kinkyboots
Elf the Musical
Dec. 12-28, 2014 at the SHN Curran Theatre
Elf begins at Santa's North Pole workshop when one of the elves, Buddy, learns that he is not actually an elf; he's human! When Santa tells Buddy the whereabouts of his birth father, Buddy heads to New York City hoping to find his dad. However, Buddy's father turns out to be a cranky workaholic who wants nothing to do with Buddy or his Christmas-loving antics. Buddy in the meantime develops a bond with his stepmother, half-brother and a beautiful Macy's co-worker and helps restore the lost holiday spirit of his jaded New York family.
https://www.shnsf.com/online/elf
San Francisco Symphony Christmas Spectacular featuring A Charlie Brown Christmas
Dec. 20-24, 2014 at Davies Symphony Hall
Join the San Francisco Symphony on a journey through Christmas classics, favorite carols, and sing-alongs including a live-action performance of A Charlie Brown Christmas with orchestral accompaniment and video sets. Special visits from beloved holiday characters and yule-tide cheer throughout Davies Symphony Hall will round out this musical experience that will certainly become a holiday tradition for years to come.
http://www.sfsymphony.org/index.aspx
"Classic" holiday events in San Francisco are as unique as the city itself. Annual favorites have a special spin that makes them all the more enjoyable. Here are just a few highlights:
Holiday Ice Rink at Embarcadero Center, Presented by Hawaiian Airlines
Nov. 5, 2014-Jan. 4, 2015 at Justin Herman Plaza
Delighting families, couples and ice-skating enthusiasts for more than 25 years, the Holiday Ice Rink at Embarcadero Center presented by Hawaiian Airlines opens each winter for nine magical, fun-filled weeks. Get ready to skate under the sun and stars along the beautiful waterfront at the largest outdoor rink in San Francisco.
http://www.embarcaderocenter.com/ec/attractions
Safeway Holiday Ice Rink
Nov. 5, 2014-Jan. 19, 2015; 10 a.m.-11:30 p.m. daily in Union Square
New this year, the seasonal ice rink will host several events: "Tree Lighting Ceremony" on Nov. 28, 2014; "Single in the City: A Single's Event" on Thursday, Dec. 4, 2014 at 8-9:30 p.m.; "Drag Queens on Ice: Glitz & Glamour" on Thursday, Dec. 11, 2014 at 8-9:30 p.m.; "Polar Bear Skate" Thursday, Jan.1, 2015 from 2- 3:30 p.m. where ice skaters are encouraged to come in their favorite bathing suit and beach blanket apparel.
http://www.unionsquareicerink.com
Beach Blanket Babylon's seasonal extravaganza
Nov. 19-Dec. 30, 2014 at Club Fugazi
Steve Silver's Beach Blanket Babylon, the world's longest running musical revue, welcomes this holiday season with special performances featuring a chorus line of tap dancing Christmas trees, special parodies of traditional Christmas carols and a gigantic Yuletide hat.
http://www.beachblanketbabylon.com
28th Annual San Francisco SPCA Holidays Windows at Macy's Union Square
Nov. 21, 2014-Jan. 4, 2015 at corner of Stockton and O'Farrell Streets
Enjoy another extraordinary season as Macy's and the San Francisco SPCA celebrate 28 years of this holiday tradition.
These charming holiday windows, "decorated" with cats and dogs available for adoption, were voted one of the "10 Best Places to Press Your Nose" by USA Today. SPCA adoption experts help prospective parents take home an adorable pooch or kitty just in time for the holidays.
http://www.sfspca.org/
The Great Dickens Christmas Fair
Nov. 22-Dec. 21, 2014; weekends only, and Friday after Thanksgiving, 10 a.m.-7 p.m. at the Cow Palace Exhibition Halls
The world renowned Great Dickens Christmas Fair is the only event of its kind anywhere. The winding lanes of Victorian London come to life at the Cow Palace in 120,000-plus square feet of theatrically lit music halls, pubs, dance parties and charming shops overflowing with handmade holiday treasures. It's a lamp lit city brimming with lively and colorful characters from the pages of history and the imagination of Charles Dickens, Jules Verne and Lewis Carroll. New entertainment this year includes Richardson's Empire of Wonders, a Victorian sideshow filled with whimsical wonders and curious conundrums; a sprightly production of the perennial favorite Pinocchio; and a new Christmas Carol environmental theater.
http://www.dickensfair.com
PIER 39 Tree Lighting Celebration
Nov. 22-23, 2014 at PIER 39
Special friends from the Disneyland Resort help welcome the holiday season with two days of holly-jolly magic and merriment for the whole family. The fun culminates at 6 p.m. each evening as PIER 39's majestic 60-foot tree, adorned with shining ornaments, bows and twinkling lights, lights up against a stunning background of the San Francisco skyline.
http://www.pier39.com
'Tis the Season for Science
Nov. 26, 2014-Jan. 4, 2015; Monday–Saturday 9:30 a.m.-5 p.m., Sunday 11 a.m.-5 p.m.; closed on Thanksgiving and Christmas
California Academy of Sciences, Golden Gate Park
Celebrate the festive, winter season with a scientific twist at the California Academy of Sciences' annual holiday exhibit. From fast-growing antlers to dynamic diets and amazing migrations, discover how reindeer adaptations allow these hardy animals to thrive in demanding Arctic environments. Live reindeer, indoor snow flurries, the Snowman Theater, and more will return to delight visitors of all ages. Plus, a suite of holiday-themed programs, including quiz shows and live music performances, will get visitors up and moving as they learn about the fascinating science behind the holiday season.
http://www.calacademy.org
The Fairmont San Francisco Holiday Gingerbread Tea at Laurel Court Restaurant & Bar
Saturdays and Sundays, Nov. 30–Dec. 15 at 1:30-3:30 p.m. The Fairmont San Francisco's holiday tea and elaborate lobby decorations have been a favorite family tradition for decades and are the perfect opportunity to turn moments into memories. Children at the tea receive a nutcracker trinket and a gingerbread cookie to decorate.
http://www.fairmont.com/san-francisco/promotions/holidays-at-the-fairmont-san-francisco
The Golden Girls: "The Christmas Episodes 2014" annual all-drag X-mas Exdrag-a-ganza
Dec. 4-21, 2014: 8 p.m. Thursdays through Saturdays and 7 p.m. Sundays at the Victoria Theatre.
Truly an "Only in San Francisco" event, Heklina and three other world-class drag queens perform two episodes from "The Golden Girls" TV show live on stage.
http://www.trannyshack.com
A Christmas Carol with the American Conservatory Theater
Dec. 5-28, 2014 at the American Conservatory Theater
Featuring a lively cast of dozens, gorgeous costumes, and those deliciously spooky ghosts, the Bay Area's favorite holiday tradition returns with a sparkling, music-infused production of A Christmas Carol by the American Conservatory Theater. Bring your family and friends and check your "humbugs" at the door.
http://www.act-sf.org
Decorated Boat Parade at Fisherman's Wharf
Dec. 12, 2014 at 5:30-8 p.m. PIER 39 to the St. Francis Yacht Club
Join the Fisherman's Wharf community and the St. Francis Yacht Club for the largest boat parade on San Francisco Bay. More than 60 boats festooned with lights and holiday decorations will parade along the waterfront starting at PIER 39 and traveling to Marina Green before returning to PIER 39.
Shine with the San Francisco Gay Men's Chorus
Dec. 12-13, 2014 at 8 p.m. at the Nourse Theater
Celebrate the holidays with the San Francisco Gay Men's Chorus. It's a fun-filled evening packed with joyous holiday favorites, breathtaking classics, and outrageous surprises that will leave you aglow and make your spirit shine. Guest artists will include Stephen Schwartz, Leslie Ann Jones, The William and Flora Hewlett Foundation and Well-Strung (at the Nourse Theater), Lisa Vroman, Donna Sachet and others (at the Castro Theatre).
http://www.sfgmc.org
A Chanticleer Christmas
Dec. 12-22, 2014
This much beloved Grammy-winning Bay Area tradition brings the power and mystery, warmth and intimacy of the season to capacity audiences in beautifully decorated churches, cathedrals and missions. Various locations and times.
http://www.chanticleer.org
The Nutcracker presented by the San Francisco Ballet
Dec. 12-29, 2014 at the War Memorial Opera House
The first ballet company to bring The Nutcracker tradition to America, San Francisco Ballet's awe-inspiring production is like no other. Set in San Francisco during the 1915 World's Fair, Clara's dreamlike journey is an ode to the city's historical grandeur-all amidst colorful, larger than life scenery, more than 200 dazzling costumed characters and Tchaikovsky's beautiful score performed live by the world-class San Francisco Ballet Orchestra.
http://www.sfballet.org
2014 Dance-Along Nutcracker®
Dec. 13, 2014 at 2:30 p.m. and 7 p.m.(Adult Gala) and Dec. 14, 2014 at 11 a.m. and 3:30 p.m. at the Yerba Buena Center for the Arts, Mission St.
Performed by the San Francisco Lesbian/Gay Freedom Band, the wackiest Nutcracker on earth kicks up its heels. This year's theme is "Frosty's Hawaiian Holiday," with plenty of grass skirts and ukuleles.
http://www.DanceAlongNutcracker.org
SantaCon 20th Anniversary
Dec. 13, 2014, location to be determined
SantaCon is a bar crawl in which participants dress as Santa Claus or other Christmas characters. It is also known as Santarchy and Santapalooza. It originated in San Francisco in 1994 and has since spread to 44 countries around the world.
http://www.santacon.info/San_Francisco-CA/
Smuin Ballet's Holiday Program
Dec. 18-27, 2014, various times, at Yerba Buena Center for the Arts
The Smuin Ballet kicks off the holidays with The Christmas Ballet. The two distinct acts, Classical Christmas and Cool Christmas, are filled to the brim with an eye-catching array of ballet, tap and jazz, celebrating every imaginable holiday flavor from serene and spiritual, hilarious and hopeful, to downright ready to party. This year, the show will have new choreography from choreographer-in-residence Amy Seiwert, Smuin dancer Jane Rehm and former Smuin dancer Darren Anderson, and more. An ever-changing carousel of mischief and elegance, The Christmas Ballet is a perfect gift for audiences of all ages.
http://www.smuinballet.org.
Illuminate SF
Light art – which is growing in popularity - is perfectly suited to San Francisco, with its mild winter nights and hunger for all things innovative. From November through January, "Illuminate SF" is a fall/winter festival to celebrate 15 eclectic, electric installations.
The cornerstone of "Illuminate SF" is The Bay Lights, the world's largest LED light sculpture. Since its debut on March 5, 2013, the vertical cables of the Bay Bridge have come to life nightly with 25,000 LED lights "performing" in patterns created by light artist Leo Villareal. The Bay Lights continues nightly through 2015 and possibly longer if funding can be raised.Learn more at http://thebaylights.org/about/.
One of the newest of the 15 works celebrated in "Illuminate SF" is Soma by the Flaming Lotus Girls at Pier 14 on the Embarcadero. This temporary installation debuted at Burning Man in 2009 and has been organized by the Black Rock Arts Foundation. It will be illuminated at 10 minutes after sunset until 2 a.m. nightly through July 2015.
Permanent light art pieces featured in "Illuminate SF" include:

Three Gems, by James Turrell (2005), de Young Museum, Osher Sculpture Garden, Golden Gate Park
Skygarden, by James Turrell (2007), San Francisco Federal Building, 90 Seventh St. at Mission Street
Ocean Mirror with Fragments, by Jim Campbell (2007), Saunders Court, University of California, San Francisco, Koret Way
Constellation, by Nayland W. Blake (1996), San Francisco Main Library, 100 Larkin St., Civic Center
Firefly, by Ned Kahn (2012), 525 Golden Gate Ave. at Polk Street, Civic Center
Language of the Birds, by Brian Goggin and Dorka Keehn (2008), Intersection of Broadway and Columbus Avenues, North Beach
…and my room still rocks like a boat on the sea…(Caruso's Dream), by Brian Goggin with Dorka Keehn (2014), 55 Ninth St., south of Market Street
Bayview Rise, by Haddad – Drugan (2014), Pier 92, Bayview near Third Street and Cargo Way
Four Sculptural Light Reflectors, by James Carpenter (2000), International Terminal, Main Hall, Level 3, Pre-Security at San Francisco International Airport
Spirogyrate, by Eric Staller (2014), Terminal 3, Boarding Area E, Level 2, Post-Security at San Francisco International Airport
Sky, by Merge Conceptual Design (2014), Terminal 3, Boarding Area E, Level 2, Post-Security at San Francisco International Airport
Light Beams for the Sky of a Transfer Corridor, by Vito Acconci (2000), International Terminal, A-G, Level 2, Pre-Security at San Francisco International Airport
Ceiling Flood, by Keith Sonnier (1999), International Terminal, Boarding Area G, Level 2, Post-Security
at San Francisco International Airport
Special "Illuminate SF" tours and events are being planned for these delightfully dark days.
For hotel reservations and information on holiday events and activities, visit the San Francisco Travel Association's official website, http://www.sanfrancisco.travel, or call 415-391-2000.
The San Francisco Travel Association is the official tourism marketing organization for the City and County of San Francisco. For information on reservations, activities and more, visit http://www.sanfrancisco.travel The Visitor Information Center is located at 900 Market St. in Hallidie Plaza, lower level, near the Powell Street cable car turnaround.
American Express® is the official Card partner of the San Francisco Travel Association.
San Francisco International Airport (SFO) offers non-stop flights to more than 34 international cities on 29 international carriers. The Bay Area's largest airport connects non-stop with 78 cities in the U.S. on 15 domestic airlines. SFO is proud to offer upgraded free Wi-Fi with no advertising. For up-to-the-minute departure and arrival information, airport maps and details on shopping, dining, cultural exhibitions, ground transportation and more, visit http://www.flysfo.com. Follow us on http://www.twitter.com/flysfo and http://www.facebook.com/flysfo.
# # #
Note to editors: For news and story ideas, follow @SFMediaRelation on Twitter. Photos and press releases are available at http://www.sanfrancisco.travel/media/.