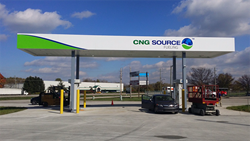 We are honored to be contributing to the country's fuel independence, and this station will help us to continue developing and innovating ahead of our competitors
Indianapolis, Indiana (PRWEB) October 21, 2014
CNG Source, a leading provider of compressed natural gas solutions for CNG stations builders and commercial fleets, will open its first Indianapolis CNG station on November 20, 2014. The four-lane facility is the first public station the company has branded with the CNG Source name, and it features the latest advancements within the compressed natural gas industry, including CNG Source's proprietary fast fill technology which allows for the dispensing of twelve gallons per minute. The station is located next to the triangle formed by the I-465, Brookville road and Shadelan Ave.
"This station represents the culmination of years of hard work, engineering and R&D," said Doug Lubs, president of CNG Source. "And it will help us to continue developing and innovating ahead of our competitors."
A grand opening celebration is in the works to commemorate the accomplishment. City and state officials, media representatives and influential members from Indianapolis' business and financial sectors will be invited to the launch.
"We are honored to be contributing to the country's fuel independence," said Lubs. "It is our goal to help shape a future in which we favor national resources, contribute to reducing CO2 emissions, create jobs and promote the city's development."
CNG Source plans to open more branded-stations that will serve as live laboratories for research and development as well as staff training. These will allow the company to put its innovations into practice for further testing without compromising clients' stations. For twenty years, CNG Source has pushed the envelope of development. The CNG Source branded stations are key to maintaining that trajectory of success.
ABOUT CNG SOURCE
A veteran company based in Indianapolis, CNG Source develops and manufactures game-changing equipment and maximizes solutions for CNG station builders, and commercial fleets. Offerings range from fuel posts and fuel dispensers to complete fueling solutions in-a-box. CNG Source also leads the industry in specialized engineering and R&D services. Turnkey solutions for commercial fleets are purposely designed to evolve and grow along with expanding businesses. CNG Source, led by Purdue University mechanical engineer Doug Lubs, harnesses decades of experience to ensure future success.