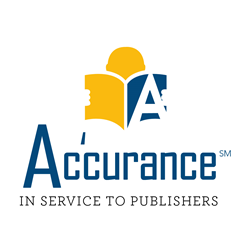 Most of our publisher eBook clients come to us when their other provider fails at books that require more complex and sophisticated formatting. We are placed well to survive the inevitable attrition of providers.
(PRWEB) October 27, 2014
Despite digital publishing's mainstream status, many remain less informed about the variety of layouts available for eBooks, what the actual output looks like, and how close the eBook version can mirror its print counterpart. For this problem, publishing services provider Accurance created an online gallery where each book is displayed with several pages that the user can leaf through. The left-hand page shows the printed-version look, and the right-hand page shows the eBook version—all visual and easy to absorb.
Aside from the visual guide, Accurance also shares how they manage to deliver the kind of quality they provide for each eBook regardless of the layout, format, and complexity. At the onset of eBook design and formatting development, many converters rushed to generic automation software to output in large volumes with only "readability," and not presentation, taken into consideration. Accurance took a different route—one that not only considered but pushed the market where it is now headed—accuracy, readability, functionality, and "look" equal to printed version books.
Since the advent of the Kindle in 2009, publishing standards have had a difficult time keeping up with constantly advancing devices and developments in eBook viewers designed to enhance the reading experience. Far too often, the results are eBook conversions that look like "70,000-word run-on sentences"—no proper formatting, no chapter heads, captions divorced from their associated pictures, and worse.
Accurance conversion was founded on the belief that publishers would expect their eBooks to have the same features as their printed version. Jon Fitch, president and CEO of Accurance said, "We simply skipped the 'let's pretend this is good' phase of the market and went straight to creating high production value eBooks from the beginning. We knew this [eBook conversion innovation] would occur as it always does with new technology, so we prepared—right from the beginning—for the inevitable."
He adds, "Most of our publisher eBook clients have come to us when their other provider—or they themselves—fails at books that require complex and sophisticated formatting. We are well placed to survive the inevitable attrition of providers."
"An author can easily find the class that fits their own print-version book and tell their publisher what they want. The publisher spends zero time educating and the author isn't confused. We've created this because we—and all our clients—have needed to cut the time it takes to explain the different features and possibilities (especially self-publishing) to author clients. Otherwise, the price point is often outstripped by the time expenditure just explaining the product. So we decided to create pages that were very simple and intuitive yet so comprehensive that the problem simply ceased," said Fitch.
Accurance has developed a solid and flexible system based on its own in-depth studies and understanding of how digital publishing works. Amid the growing competition, Accurance remains one of the few providers that combine pricing competitiveness and the operations, scripts, and processes required to be equal to the mature-market standard that has now emerged.
About Accurance
Currently the largest independent book production firm worldwide, Accurance is primarily a service solution provider and value-chain management firm specializing in book publishing, document management, content management, and technology integration. For more information about the company, visit its official website at http://www.accurance.com.