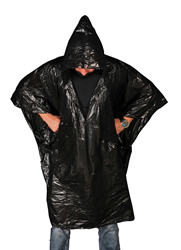 Because of its ultra-portability it can be used anywhere instantly.
Wilmington, Delaware (PRWEB) October 23, 2014
Interested in how you can prevent Ebola? Fara Group Inc announced today the release of the Gotta Go Poncho, a patent pending portable restroom system that promises to eliminate the risk of Ebola germ transmission from public restrooms. The compactable pocket sized restroom, called the Gotta Go Poncho, provides a pee bag, fecal bag and toilet cloth (toilet paper) that are used in the privacy of an opaque hooded poncho. This ultra-portable restroom system challenges the notion that public toilets require a walled structure, plumbing and pipes.
Conventional public toilets in the USA, however, can now become high risk transmission points for Ebola. The Center for Disease Control (CDC) statements on "how do you catch Ebola disease" warn it is transmitted "by direct contact (through the eyes, nose, or mouth)" with bodily fluids such as "saliva, feces, vomit, and urine of a person who is sick with Ebola". The CDC warns an infected person can leave viral germs on a "door handle, lock, faucet, sink, walls, counter, and toilet seat". And it survives for up to several days. So, a simple piece of Ebola advice is to avoid public toilets.
The Gotta Go Poncho liberates customers from the need of public restrooms. Fara Group President and CEO, A. Clarke Collinsworth believes "these portable toilets will find appeal among just about anybody who has to leave the privacy of their home or office. Because of its ultra-portability it can be used anywhere instantly."
This novel restroom system was designed with four mandates: Privacy, Portability, Hygiene, and Disposability. The opaque poncho shields the user from public view from the moment it is draped on the body. An opening below the neck allows a clear line of site for the customer to use the restroom and specially designed arm openings allow movement of hands freely in an out of the poncho.
Other practical features include the fecal bag's patent pending triple harness fit and catch system. Three easy grasp handles position the bag securely. The pee bags have a unisex receiver cusp and a superabsorbent polymer that gels instantly on contact with fluid. So less spillage. The fecal and urine waste can be safely disposed in water tight plastic bags offering a further measure for Ebola disease prevention.
Two disinfecting toilet cloths are also included. Each contains extracts of aloe vera for its soothing qualities, and peppermint plant, which brings to the cleaning experience a soft fresh finish.
According to the website site, http://www.goponcho.com, these private portable toilets target runners, walkers, tourists, park goers, owners of cars and boats, as well as folks attending public events such as sporting events, concerts, and even demonstrations.
More importantly, for those seeking how to not catch Ebola, the Gotta Go Poncho is an effective Ebola prevention measure.
Pricing & Availability
Gotta Go Poncho is available in single and four packs. Recommended retail price is $9.85. Both are available for sale on amazon.com and at http://www.goponcho.com.
Press Contact:
pr(at)goponcho(dot)com
+1 256 841 0097