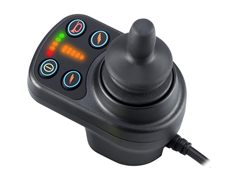 the launch of the nVR2 will help to maintain our position as the leading supplier of wheelchair control systems
Christchurch, UK (PRWEB UK) 23 October 2014
Commenting for Curtiss-Wright, Senior Vice President & General Manager of the Industrial division, Kevin Rayment, says: "When first launched, the VR2 range set new standards of performance and value for mainstream wheelchair controllers and the launch of the nVR2 will help to maintain our position as the leading supplier of wheelchair control systems."
The IPX4-rated nVR2 – which is ideal for small- to mid-range drive-only powerchairs – includes PG Drives Technology's most compact joystick module to date, lending itself perfectly to indoor use by allowing operators a closer approach to tables and minimizing the risk of collision with doorways. The simple and easy-to-access user controls make the nVR2 joystick module an ideal candidate for first-time wheelchair users, those with limited hand movement or children. In addition, its compact design also makes it less likely to sustain impact damage, therefore reducing the need for costly replacements and/or service calls.
The nVR2's power module comes with a 75cm flying lead, which offers an easy disconnection point should the wheelchair's seat need to be removed. The interconnection point between the power and joystick modules is molded from a highly-visible yellow plastic, mimicking other key dismantling points usually found on wheelchairs. The power module motor and battery connectors are also recessed to reduce overall footprint, making it ideal for applications where space is at a premium.
In addition to the nVR2 joystick and power modules, the PG Drives Technology VR2 range comprises multiple alternative modules and configurations, including actuator, dual-attendant and lighting controllers.
Curtiss-Wright's Industrial division is a recognized leader in the production of critical controls and assemblies for specialty vehicles, including sensors, electronic throttle controls and joysticks. Its PG Drives Technology business has almost 40 years' experience in sophisticated mobility control systems and is one of the world's foremost suppliers of these products. For further information about other innovative solutions available from Curtiss-Wright's Industrial division, please visit http://www.cw-industrial.com or call +44 (0)1425 271444.