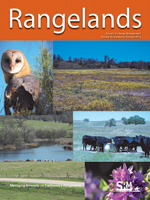 The authors seek to answer the question 'What does this mean for range management?'
(PRWEB) October 22, 2014
Rangelands—California's rangelands feature an enormous diversity of plant and wildlife species. Identifying this diversity and how it influences the management of rangelands is the subject of a special issue of the journal Rangelands as well as the upcoming meeting of the Society for Range Management.
A special issue of Rangelands explores types of diversity and the challenges and opportunities they present. This collection of articles addresses changes in agricultural production, land usage, and shifts by people from urban to rural areas. The authors seek to answer the question "What does this mean for range management?"
California is home to a wide range of biodiversity. The state hosts about 4,800 native vascular plant species, 207 problematic invasive plant species, and numerous rare vertebrate and invertebrate species, dozens of which are on state or federal endangered species lists. It also features a Mediterranean climate as well as lower desert and Great Basin rangelands, not to mention the state's diversity of people, culture and industry.
Surrounded by all of this, "Managing Diversity" was chosen as the theme of the society's 2015 meeting in Sacramento. The articles in this special issue will set the stage for further discussion. They address biodiversity, history, and socioeconomic conditions and their influences on livestock production and range management.
An anecdotal account of a visiting scholar's first cattle roundup opens a tour of California's rangelands, examining climate, ownership, and livestock production practices. Other articles offer a history of rangeland management, starting with the first Spanish missions. Taking a more businesslike approach, subsequent articles address taking advantage of the winter growing season in California's Central Valley for cattle production, and the risks and opportunities a sheep producer has met by incorporating targeted grazing services into his business.
The issue also includes articles about how range managers can actively manage for the conservation of sensitive species to maintain this biodiversity, how land owners can have different interests in and adoption of conservation practices, and how drought and competition for land and water from agricultural systems challenge range managers. The 68th annual Society for Range Management meeting will be held January 31–February 6, 2015, in Sacramento, California.
Full text of "Managing Diversity in California: An Exploration of Range Management in California," Rangelands, Vol. 36, No. 5, 2014, is available at http://www.srmjournals.org/.
###
About Rangelands
Rangelands is a full-color publication of the Society for Range Management published six times per year. Each issue of Rangelands features scientific articles, book reviews, and society news. Additionally, readers may find youth, technology, and policy departments. The journal provides a forum for readers to get scientifically correct information in a user friendly, non-technical format. Rangelands is intended for a wide-range of individuals including educators, students, rangeland owners and managers, researchers, and policy leaders. The journal is available online at http://www.srmjournals.org. To learn more about the society, please visit http://www.rangelands.org.