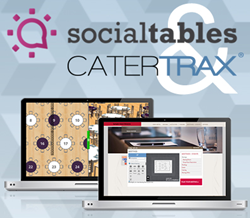 "Businesses that are delivering prestigious events in complex environments with demanding clients are going to love this software one-two punch." - Jed Sherman, CaterTrax Chief Operating Officer
Rochester, NY (PRWEB) October 23, 2014
CaterTrax and Social tables have forged a business partnership that enables catering professionals to blend two best of breed tools needed to manage their catering business and detailed room diagramming needs.
"We believe in the power of a well-rounded catering solution to better serve our partners and clients," said Jed Sherman, CaterTrax Chief Operating Officer. "Businesses that are delivering prestigious events in complex environments with demanding clients are going to love this software one-two punch."
CaterTrax, the catering management technology platform, has emerged as the industry standard for catering professionals in the managed hospitality space with a clear focus on enabling catering excellence. The Social Tables integration complements CaterTrax's platform by allowing users to make accurate room layouts, create seating arrangements and check-in guests for events.
The integration positions kitchen staff to work more collaboratively and efficiently with their event customers. Once logged in as a CaterTrax administrator, creating, editing and viewing a room diagram associated with an event requires just two clicks. The CaterTrax and Social Tables integration provides a seamless experience for caterers so mutual clients can focus on delivering amazing food and events.
Social Tables CEO and Founder, Dan Berger, echoes Sherman's statement: "CaterTrax is setting the standard for the catering industry in its forward-thinking commitment to technology. They created a product focused on enhancing efficiency and removing barriers to growth for caterers - they are the perfect partner, and we are excited to be working alongside them to provide a more comprehensive catering solution." The integration is available immediately for more than 3,000 clients.
About CaterTrax:
CaterTrax is the industry leading online solution developed by hospitality professionals proven to promote, grow, manage, and sustain profitable foodservice businesses. The co-founders of CaterTrax started out with a family-owned catering business where they developed efficient processes for managing large-scale food service operations. These processes became the core of our web-based solutions platform. CaterTrax was created by passionate professionals who understand the realities of managing high volume food and hospitality businesses. http://www.catertrax.com
About Social Tables:
Social Tables is the global leader of cloud-based hospitality software that positions venues to work more collaboratively and efficiently with their event and meeting customers. More than 30,000 unique users rely on the desktop and mobile product line, which includes online sales and marketing solutions, 2D and 3D room diagramming, business intelligence for hotels, and event attendee management. Users have planned over 175,000 events within the company's Venue Library, home to over 220-million square feet of meeting space. Social Tables was founded in Washington, D.C. in 2011 by Dan Berger, and has received a total of $9.6 million in funding. http://socialtables.com