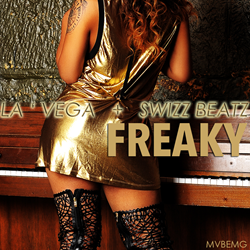 "Freaky", featuring Swizz Beatz, is popping up all over YouTube
New York, New York (PRWEB) October 21, 2014
La ' Vega's popularity has skyrocketed since signing with independent record label MVB Entertainment Music Group (MVBEMG), in Summer of 2013.
Her music is having such an impact, that a recently recorded track titled "Freaky", featuring Swizz Beatz, is popping up all over YouTube without consent from her label.
Abdel Russell, the owner of MVBEMG, said the track was only sent out to several reputable industry people, so he is not sure who would have done this. He also said the audio quality of the unreleased track is "horrible".
La ' Vega has well over 300 recorded and unreleased tracks, some on iTunes and Spotify, and she is currently recruiting different producers to help put the finishing touches on her future untitled album, slated for a 2015 release.