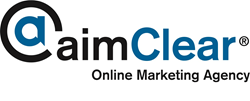 Duluth, Minn. (PRWEB) November 05, 2014
aimClear, an internationally recognized digital marketing agency, has expanded its rich media capabilities with a new in-house video studio and production team. In addition, the agency has added two marketing professionals to its team of holistic search and social media marketers. The aimClear team expands to 27 professionals with the addition of Nate Kruse, Jesse Gangi, Sara Eastvold and Amber Krohn.
"aimClear's growth is a direct result of our drive to be at the forefront of digital marketing. Coupled with our development of a state-of-the-art video production facility and our third consecutive Inc. 500/5000 year, the result is a need for extremely talented people," said Marty Weintraub, Founder and Evangelist of aimClear.
aimClear's construction of a full floor studio space to produce social journalism content for its clients led to the addition of skilled videographer Nate Kruse. Kruse brings three years of video shooting and editing experience to his new role at aimClear as video production specialist. A previous news photographer at WDIO, the ABC affiliate in Duluth, Kruse's primary roles included filming news stories, conducting interviews and editing footage for evening broadcasts.
With more than nine years of developing and design experience, Jesse Gangi joins aimClear as Web application developer. Gangi comes to the agency from FOX 21 News, KQDS-DT, where he helped with website, mobile application and advertising design, as well as graphic and video editing. He assisted in building the company's new website and the first mobile application for television news in the region. Gangi's range of talents will be an incredible asset to the web application and social journalism team.
Sara Eastvold brings nearly three years of diverse web technology experience to her web developer role at aimClear. Prior to aimClear, Eastvold developed cold fusion and e-commerce forms, and implemented site-wide functionality upgrades to the College of Saint Scholastica's website as a student web developer. Her experience in website themes, landing pages, templates and SEO optimization make her a talented addition to the team. In her new role, Eastvold will provide website development support for the agency's diverse range of clients.
Amber Krohn joins aimClear as an associate account manager. As a recent graduate of the University of Wisconsin-Madison, Krohn brings 2.5 years of public relations and marketing experience. Prior to aimClear, Krohn worked as the communications coordinator for the Wisconsin Environmental Initiative, where she led media relations, social media strategy, website maintenance and YouTube video creation. Krohn will support the public relations and social media efforts for the agency's clients.
###
About aimClear®
aimClear is a Minnesota-based digital marketing agency widely regarded for its radically focused demographic targeting, message testing and guerrilla conversion techniques. The agency is known for its bleeding-edge creative tactics and holistic approach to integrated use of social media channels and search. aimClear is the developer of the highly disruptive Facebook Amplification Tool, Reach Rocket. The aimClear team consists of accomplished international speakers and industry thought-leaders. For more information, visit http://www.aimclear.com or contact us on Twitter @aimClear.