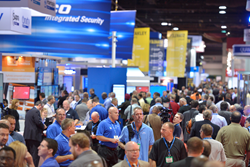 "Hands down, it was the best ASIS show I've been to in years..."
Alexandria, Va. (PRWEB) October 21, 2014
More than 19,000 security professionals from 97 countries, including the United States, attended the ASIS International Annual Seminar and Exhibits (ASIS 2014), held in Atlanta, GA, Sept. 29–Oct. 2, 2014. This year marked the 60th Annual Seminar and Exhibits held by ASIS International, the leading organization for security management professionals worldwide.
This year's Seminar left many looking forward to ASIS 2015. From the President's Reception, the Seminar's premier networking event, to the headline-driven education programs, to the solutions-oriented exhibit floor, security management professionals and exhibitors alike found much, much more than they expected.
"From providing an excellent platform for training, product demonstration, networking, and the general sharing of ideas, ASIS 2014 did not disappoint," stated Senior Vice President, Pelco Video Line of Business, Herve Fages.
Keynote speakers included Jon Huntsman, Jr., 16th governor of Utah and former U.S. Ambassador to China, and General Colin L. Powell, USA (Ret.), 65th Secretary of State. The Closing Luncheon featured Scott Moore, United States Navy SEAL Rear Admiral (Ret.), who spoke on "Building Teams with the Military's Most Elite."
Three general sessions delivered expert insight on effective threat modeling, bribery and corruption in foreign markets, and the dramatic change taking place now in China. More than 250 education sessions in 24 tracks reflected a wide range of topics of interest to those who are responsible for protecting their organization's human, cyber, and physical assets.
"The education sessions this year were outstanding in terms of quality of speakers and overall session content. I also took advantage of the CPP review program to further my certification exam preparations," said Bill Powers, director of Facilities, The Clark Museum. "The exhibit floor was full of technology and service vendors that offered the solutions that I need and experts to listen and to understand my challenges."
Recent global events also were reflected in the programming with special sessions on the Ebola outbreak and the evolving threat of ISIS, which drew a standing room-only crowd. New data on the uptick in spending for security in the U.S was released at a special session, along with insight into what is driving the increase to $410 billion in 2014—up from $388 billion in 2013.
Senior security executives from over 20 countries registered for CSO Roundtable events, which offered exclusive briefings with keynote speakers and a private meeting with Governor Tom Ridge, chair of the U.S. Chamber of Commerce's National Security Task Force. Gov. Ridge led discussions between members of the Task Force and the CSO Roundtable.
Covering more than 223,000 net square feet of the Georgia World Congress Center, companies exhibited a wide array of leading-edge products and services. Exhibitors experienced a marked increase in not only the level of booth traffic, but, specifically noted an increase in the quality of leads generated.
"We gathered over three times the potential leads than we had in previous ASIS shows," exclaimed Sherri Nighbert, sr. event marketing specialist for Tyco Security Products. "This was the busiest we have ever seen our booth. The show brought in heavy traffic and quality customers. We were extremely pleased with our results."
Samsung's Janet Fenner concurs with Nighbert and others, stating, "Traffic was outstanding. Our leads increased 61% over last year."
Exhibitors also noted the value of meeting with end-users directly, one-on-one, to introduce their products and services to potential buyers, and to connect with current customers.
"Hands down, it was the best ASIS show I've been to in years," wrote exhibitor Elaine O'Sullivan, PPM, in her blog post of 10/8/14. "ASIS is second only to our own Users' Conference in the number of clients we get to meet face-to-face as we share the latest advancements in our products and services and, more importantly, get to find out how they're doing…"
For the fourth year, the (ISC)2 Security Congress colocated with the ASIS Seminar, broadening the scope of education and connection opportunities for members of each organization.
Plans for the 61st Annual Seminar and Exhibits, taking place Sept. 28-Oct. 1 in Anaheim, Cal., are well underway. Eighty-four percent of the ASIS 2014 exhibitors contracted to exhibit at ASIS 2015. To reserve space, email exhibits(at)asisonline(dot)org. The call for presentations will open in November 2014 and close February 11, 2015.
# # #
Note to editors: Images may be requested from leigh(dot)mcguire(at)asisonline(dot)org, or may be downloaded from https://www.flickr.com/photos/asisinternational/sets/72157647768686228/.
ASIS International is the leading organization for security professionals, with more than 38,000 members worldwide. Founded in 1955, ASIS is dedicated to increasing the effectiveness and productivity of security professionals by developing educational programs and materials that address broad security interests, such as the ASIS Annual Seminar and Exhibits, as well as specific security topics. ASIS also advocates the role and value of the security management profession to business, the media, government entities and the public. By providing members and the security community with access to a full range of programs and services, and by publishing the industry's No. 1 magazine—Security Management—ASIS leads the way for advanced and improved security performance.